The monsoon embraces comfort, warmth, and calmness while also behaving so treacherously toward our skin and hair. Rain Droplets falling from the sky bathed the greenery, spreading the colliding effects in the weather, but when they touched our hair, the moisture increased, and the hair follicles became loosened.
Let's figure out why it occurs and some monsoon hair care tips so that its harsh effects won't hold up your enjoyment of eating fritters with tea and binge-watching Netflix movies during these rainy days.
Why Does Monsoon Cause Hair Loss?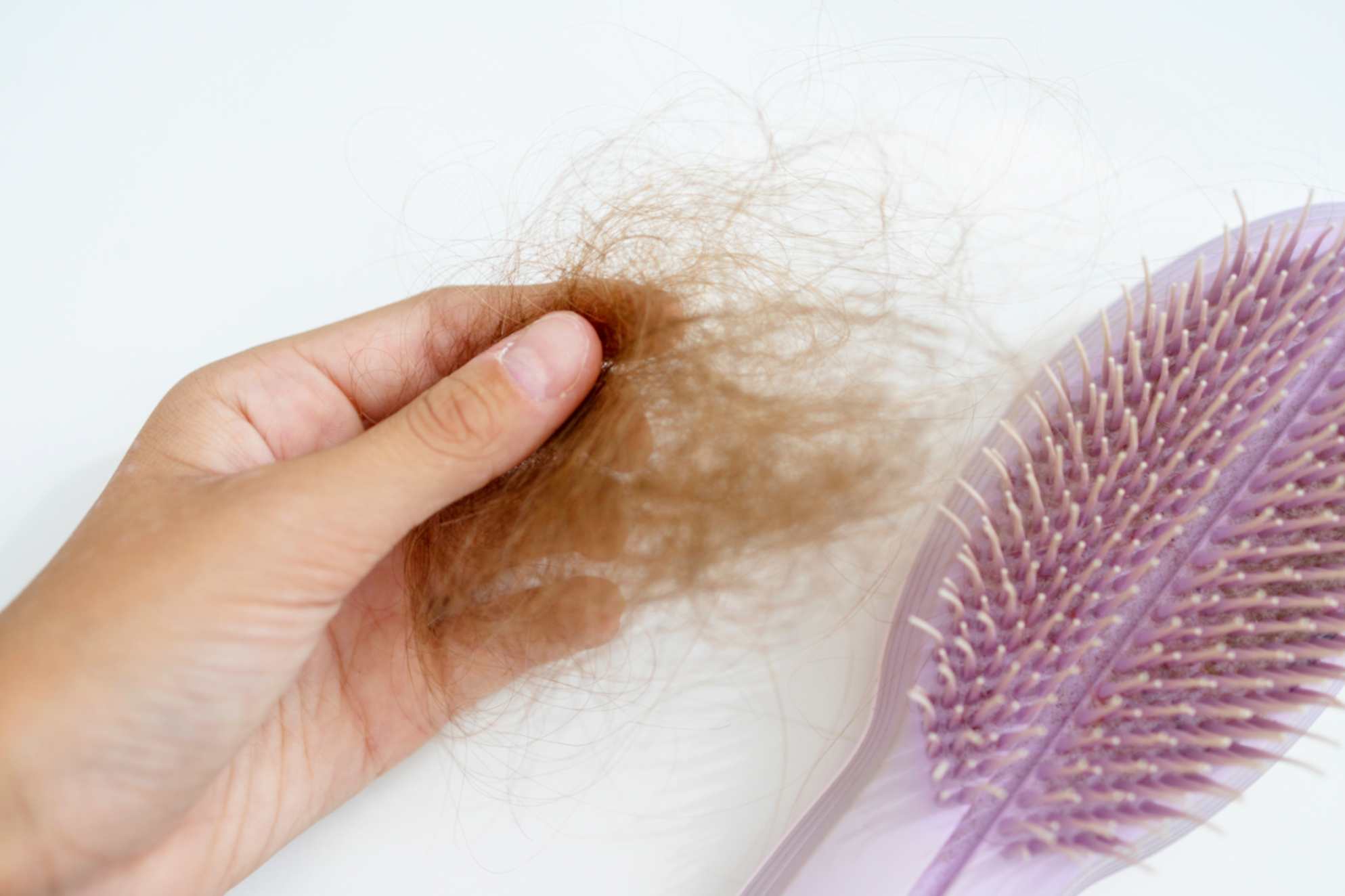 Hair fall in the monsoon is the most common problem, along with split ends, dandruff, a flaky scalp, frizzy hair, and weakening hair follicles.
Why do things happen? There are a number of causes, but if we focus on why it occurs during the monsoon, the primary reason is the rising air humidity.
Let's walk through some of the more compelling reasons along with the core one!
An increased humidity– The rising air humidity is prone to hair breakage. When you get wet during the rain, your hair cuticles swell up after absorbing the rainwater, which falls on your scalp. Once they swell up, they don't come up in their normal position. As a result, it weakens our hair roots and even abruptly brushes them up in the form of split ends.
Nutritional deficiency– Not having enough iron, zinc, minerals, protein, amino acids, and biotin in the body results in hair thinning and hair loss.
Microbial or fungal attack– Higher moisture levels in the air can dry out the scalp and quickly propagate a microbial or fungal infection.
Chemical or heated hair treatment– Hair treatments like coloring, straightening, and streaking transform your odd hair into a remarkable appearance but damage your hair cuticles from the roots.
Stress– Stress wreaks havoc not only on your body and facial skin but also on your hair. People under stress frequently lose a lot of hair.
11 Monsoon Hair Care Tips for Healthy Hair
Who doesn't want voluminous, smooth, and shiny hair? Because hair frames a person's face, whether you're a man or a woman. It plays a big role in our self-esteem, so losing your hair would mean losing your self-esteem.
But we won't let you do it in this volatile monsoon for skin, body, or hair. We've come up with some magical hair care tips during the monsoon to promote healthy hair-
1. Wash your hair with mild or chemical-free shampoo
Monsoon hair care is quite difficult due to its higher humidity levels, which strip the natural oils from the scalp. With mild or chemical-free shampoo, you can keep your hair healthy, clean, and moisturized.
Make sure to choose organic shampoos, like those with botanical extracts and tea tree oil, and free from sulfates, parabens, and phthalates. If you have dry hair, select a shampoo that can moisturize your scalp; if you have oily hair, select a shampoo that can remove excess oil and dirt from your scalp.
2. Try acidic hair rinse after shampoo
Monsoons and frizzy, outshining hair go hand-in-hand if you give it a try, an acidic hair rinse just after the shampoo helps you balance your hair and scalp pH.
Mix white vinegar or apple cider vinegar in a 1:10 ratio in a mug with cold water. Pour the mixture over your hair and rinse it with cool water. You may do this once a week, or if your scalp is sensitive, you can dilute the apple cider vinegar with more water.
3. Keep your hair dry with a microfiber towel
Microfiber towels are gentler on your hair. In the monsoon, rain absorption makes your hair vulnerable and prone to breakage.
Drying your hair with a microfiber towel reduces frizziness and prevents tangling or snagging. You won't need to use a blow dryer or rub your wet hair to remove the water once you've wrapped it in the microfiber towel for about 30 minutes.
4. Use a wooden wide-toothed comb
The monsoon makes dry or frizzy hair more tangled and causes hair breakage. Using a plastic comb generates an electrostatic charge that causes your hair to dry out. As they are eco-friendly and less prone to mold and bacteria growth, wooden combs are a good choice.
Buy a wooden wide-toothed comb to help you detangle your hair and prevent breakage. The more you are gentle with your hair, the lower the chance of it falling out. Make sure to detangle your hair at the ends, and do so gently.
5. Avoid using high-heat hair styling tools
Hair styling tools can be monstrous for your hair during the monsoon. Don't forget to avoid this in your monsoon hair care routine. Heat styling tools, hair serum, or other products may help you achieve a desirable hair look.
Several high-heat styling tools, including blow dryers, straighteners, and curlers, reach up to a 400-degree temperature. That level of heat can unsatisfactorily lift or break hair cuticles. Use a vitamin- or nutrient-rich heat-resistant spray if you can't avoid it.
6. Tie your hair loosely
During the monsoon season, the rising humidity in the air depletes humectants in the hair and weakens the hair roots.
Tightly tying your hair will be highly harmful to your hair's growth. Secure your hair loosely with a silk rubber band, clutches, or a loose ponytail.
7. Do hair massage with warm oil
Oil has nutrients that help nourish your hair and protect it from any hazards. So undoubtedly, oil massage works like magic for your hair growth and prevents split ends, hair thinning, or any breakages.
Warm up the oil just enough so that it can be touched, but not too much. Parting your hair and gently massaging it in a circular motion, make sure to oil it from root to end, and every crevice should be covered.
Use some of the most popular and rich hair oils, such as coconut oil, olive oil, and jojoba oil. You can use castor oil, but avoid heating it because it releases harmful toxins. Add a few drops of rosemary essential oil to your carrier oil to stimulate hair follicles.
You must include warm oil massage, which is one of the best hair care tips for hair growth and thickness. It eliminates dandruff, relieves an itchy scalp, and even rejuvenates the scalp and muscles.
8. Apply home remedies hair mask
If we come up with magical hair care tips at home, we will surely apply hair masks. Extreme hair fall can be reduced with home remedies in this perilous monsoon.
Home remedies are quite popular and accessible because you can find their ingredients in your kitchen and pantry. They have no chemicals or additives; they are purely organic.
Some wonderful ingredients that you must use in monsoon hair care,
Curd- for deep conditioning
Banana- for reducing frizziness
Honey- for retaining humectants
Aloe vera gel- for hydrating and soothing scalps
Rosemary essential oil- for improving scalp health
Egg white- improving hair texture and adding shine
Combine any two or three of them to create a wonderful hair mask, and after using it twice a week for a month, the results will undoubtedly astound you.
9. Keep yourself hydrated
Hydration maintenance is very important during the monsoon. On rainy days, your hair absorbs the humidity in the air; if it hasn't absorbed the body's water, your follicles may become weak and easily fall out. Dehydration can affect the scalp and hair strands' moisture levels, causing dryness and brittleness.
Drink around 2 liters or eight glasses of water throughout the day. You can even hydrate yourself with your morning tonic, like coconut water or detox water. Consume hydrating foods with high water content, such as cucumber, leafy greens, oranges, grapes, etc.
10. Nutritious diet
Consuming a nutritious diet makes your hair strong and healthy. When your body lacks protein, your hair may become dry, brittle, and breakable; when you lack iron, your hair may become loos; and when you lack zinc, your scalp may become dry and itchy.
There are no other haircare shortcuts; instead, eat a healthy and nutrient-dense diet. Keep foods high in protein, zinc, and iron in your diet.
Conclusion
Monsoons are beautiful, but they are harsh on our skin and hair. Every person's looks matter, and hair enhances them. Exploring new hairstyles every day boosts your confidence, whether you're attending an event, going out with friends, or going to work.
However, if it falls out or thinning hair interferes with your styling, it damages your self-esteem. Undoubtedly, the monsoon is the season of falling hair. To save your hair from damage and breakages, follow our monsoon, as mentioned earlier, hair care tips for improving the scalp health of your natural hair.
Restore your hair and your self-esteem. Good Luck !
Best Onion Hair Care Products in India this Monsoon