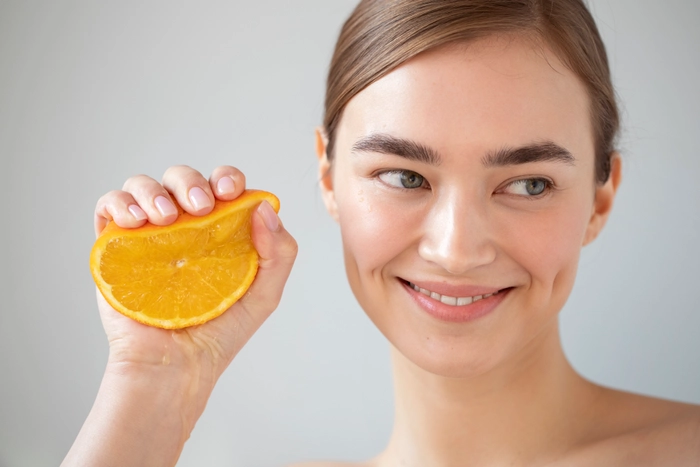 Who doesn't want glowing, bright skin that you get from professional facial? Well, it is not always possible to head to a beauty salon for a facial, so what should you do? Pick up a at-home facial kit that makes it easy to rejuvenate your skin and revive that natural glow. The best thing about using an at-home facial kit is that it saves time – gives you glowing, bright skin within 30 minutes. Also, you can do this any time during the day – whenever you feel like reviving dull skin.
The benefits of using Vitamin C facial kit
Vitamin C is known one of the most potent antioxidants that offers many skin benefits. It helps to reduce excess melanin production, even out complexion and boost the skin renewal process. This gives your skin a bright, fresh glow. To get started with your special vitamin C infused at-home facial, you can try the WOW Skin Science Vitamin C Brightening Facial Kit. This specially curated facial kit is a complete skin care kit with products that are infused with traditional actives like active vitamin C, vitamin E, lemon and orange essential oil, Kakadu plum and aloe vera gel. These natural actives work together to help give you clear, radiant, smooth and supple skin.
How the vitamin C facial kit gives you radiant skin
If your skin is looking tired and is showing fine lines of aging, this at-home Vitamin C Facial kit is just the solution for you. The kit can be used to revive, repair and energize dull, dry skin and uneven complexion. The vitamin C infused products help to brighten and lighten your complexion, remove dead skin and deep-seated impurities giving your skin a luminous, radiant quality. The Vitamin C Facial Kit is perfect for reducing environmental damage, minimizing fine lines, brightening complexion and energizing skin. Since vitamin C is such a powerful antioxidant, it also helps to fight oxidative damage to skin, so that regular use can bring a healthy glow to your skin.
What's inside the six-step brightening vitamin C facial kit
The easy-to-use kit has products that are meant to be used together for rejuvenating and reviving your skin. The facial kit contains Vitamin C Cleansing Milk, Vitamin C Face Scrub, Vitamin C Massage Cream, Vitamin C Face Pack, Vitamin C Face Serum and Vitamin C Soothing Gel.
Vitamin C Cleansing Milk:
It is a refreshing and brightening skin cleanser with active vitamin C that clears away dirt and makeup leaving skin fresh and bright. The cleanser delivers the antioxidant benefits of active vitamin C, pro-vitamin B5, vitamin E, lemon and orange essential oil. It helps to remove makeup, dead skin and pollution. It fights free radical damage, brightens dull skin, improves skin texture and revives sluggish skin.
Vitamin C Face Scrub:
It is a rejuvenating and smoothening exfoliator that sloughs away dead skin layer to reveal fresh, radiant, even-toned complexion. It delivers the goodness of active vitamin C, lemon extract, walnut shell powder and pro-vitamin B5. The scrub helps to exfoliate dead skin layer, remove skin impurities and tan, even out complexion, restore smoothness and boost glow.
Vitamin C Massage Cream:
It is glow-boosting and softening massage cream that moisturizes, repairs and nourishes skin to give it a bright, supple look. Delivers the benefits of goodness of active vitamin C, shea butter, Kakadu plum extract, sweet almond oil, and sweet orange essential oil. The cream helps to fortify skin structure, boost collagen structure, smoothen fine lines and rejuvenate tired, dull skin.
Vitamin C Face Pack:
It is a refining and brightening pack that evens out patchy complexion and tones sluggish skin to give it a radiant, healthy sheen. Delivers the skin-reviving benefits of active vitamin C, kaolin clay, shea butter, orange and lemon essential oil. The face pack helps to draw out impurities, refine and minimize pores, clarify skin and remove dullness, protect from damage, reduce fine lines, and brighten complexion.
Vitamin C Face Serum:
It is a brightening and skin restoring serum that hydrates, nourishes and protects skin. The serum is infused with pure vitamin C, witch hazel and hyaluronic acid that energize skin and gives it dewy radiance. It helps to repair skin damage, boost collagen and elastin, smooth out fine lines, fade age spots, brighten dull skin and enhance skin luminosity
Vitamin C Soothing Gel:
It is a skin calming gel with active vitamin C, Kakadu plum extract and aloe vera gel, that rejuvenates and hydrates skin leaving it feeling soft, supple, youthful and looking dewy and radiant. It helps to deliver deep hydration to skin, soothe irritated and inflamed skin, minimize the appearance of pores, and gives skin a plump, supple feel.
How to use vitamin C facial kit at home
Step 1:
Cleanse with Cleansing Milk: Pour a small amount of cleansing milk on your palm. Apply on face and neck. Lightly massage in to melt away impurities and makeup. Wipe away with a cleansing pad or damp cotton pad. Rinse with water if required.
Step 2:
Exfoliate with Face Scrub: Take some scrub and apply on your damp face and neck in a smooth layer. Massage your skin in circular motion. Do this for 2 to 3 minutes for the scrub to work effectively. Rinse thoroughly.
Step 3:
Nourish with Face Serum: Take 5-6 drops of serum onto your fingertips. Dab the product on your skin. Pat and press the serum for a minute to allow it to soak into the skin. Shake the bottle before use.
Step 4:
Moisturize with Massage Cream: Take some cream and apply in dots all over your cleansed face and neck. Massage it in using upward, firm strokes till the cream gets absorbed into the skin. For intense result, lightly steam your face.
Step 5:
Tone with Face Pack: On your damp skin apply an even layer of the pack with a spatula or fingers. Avoid the areas around your eyes, brows, lips and hairline. Keep on for about 15 minutes, then rinse thoroughly with plain water. Pat dry and moisturize.
Step 6:
Hydrate with Soothing Gel: Take adequate amount of the gel and apply all over your face and neck. Massage it in with light strokes till the gel is completely absorbed into the skin.
Get radiant skin with vitamin C in a jiffy
This facial kit is an ideal at-home, selfcare solution for reviving dull, tired, dry and dehydrated skin. This six-step facial kit is easy to use and allows to get have dewy, luminous skin in just 30 minutes. That is why it is a perfect solution, when you want to prep your skin before a big event – the results are as good as getting a professional facial.