You have probably used onion to add flavor to your food. But do you know it can effectively remedy hair thinning or loss? Research has shown that applying onion juice to your scalp might regrow hair. Thus, you can use it to restore hair shine and luster. Additionally, it may treat dandruff and prevent premature hair graying. Hair thinning is a prevalent problem for which many people need a solution. So, how can onion juice stop hair loss?
Caring for your hair requires some basics. Protein, sulfur, and keratin are some of the components that make hair stronger. They keep your strands intact to their roots. Calcium, protein, and vitamin deficiencies manifest in dandruff and hair fall. Some shampoos, gels, and oils are only sometimes the solution to hair problems. In some cases, home remedies, such as onion juice, can help.
How Does Onion Juice Stop Hair Loss?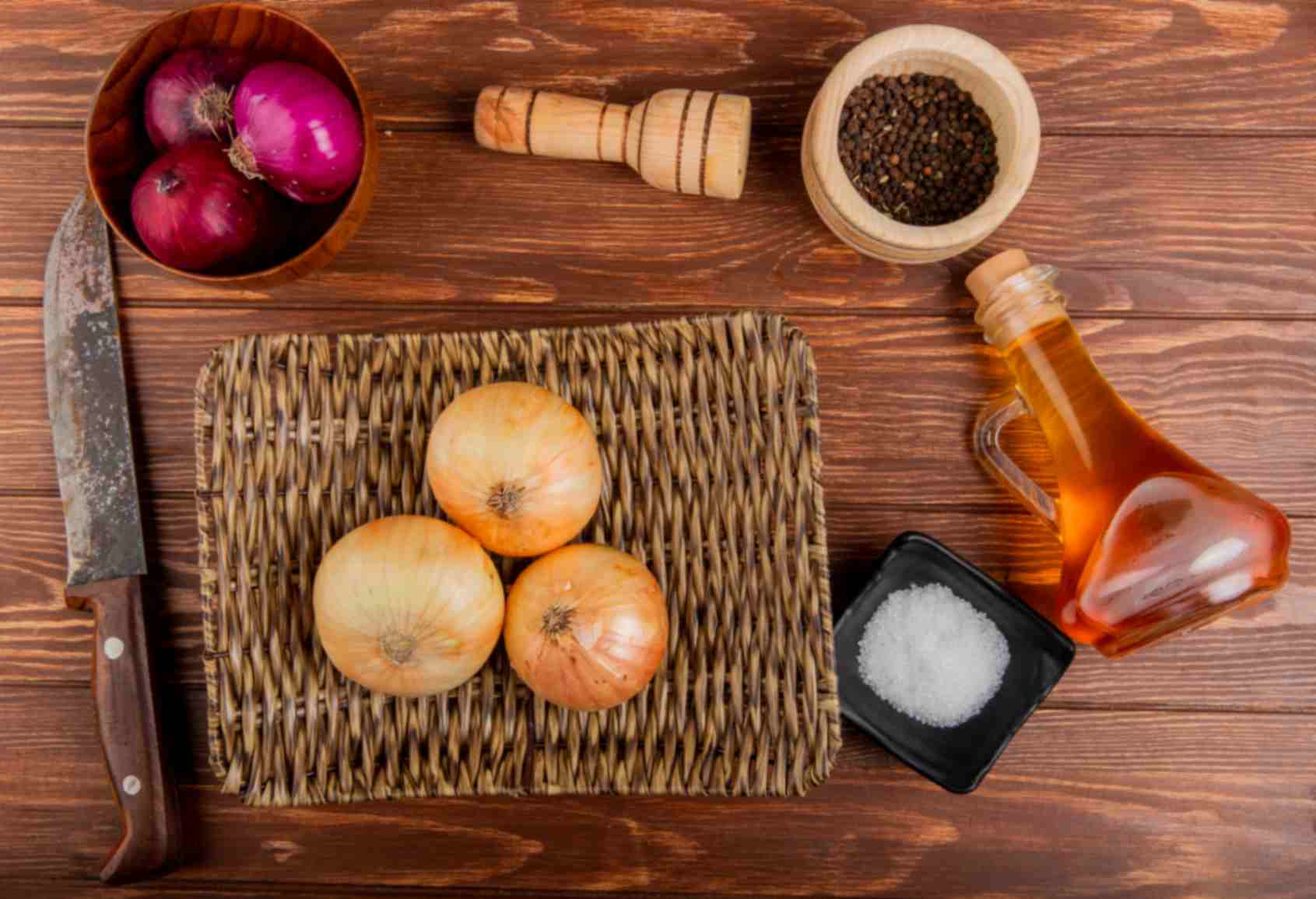 Onion is rich in dietary sulfur, a vital nutritional element for the body. Amino acids, which make up proteins, have sulfur. Proteins, mainly keratin, are necessary for the growth of strong hair. Onion juice application to the scalp and hair provides sulfur that supports thick and robust hair. This promotes hair growth while preventing hair loss.
Also, sulfur from the onion juice can stimulate collagen production. Collagen promotes the hair growth and production of skin cells. Additionally, onions enhance circulation. Onion juice application to the scalp and hair may improve blood circulation and supply to your follicles.
Besides, onion has anti-microbial properties. So, applying onion juice could help with scalp infections. Scalp infection sometimes contributes to hair loss, and a healthy scalp has strong hair follicles. Moreover, onions have antioxidants like flavonoids that protect the body from free radicals. Free radicals influence the aging process. For instance, free radicals can damage hair follicles, leading to hair thinning and loss. Decreasing or canceling out free radicals can lower the damage to hair follicles.
Benefits of Using Onion Juice for Hair Loss
Onion juice is highly beneficial to people with a hair loss problem. Here's how applying onion juice to stop hair loss will benefit you.
Preventing Hair Fall
The sulfur in onion juice makes it effective in preventing hair fall. Sulfur is a crucial component of solid hair. Also, it may promote collagen production, which helps keep the skin while enhancing hair follicle production. Massaging your scalp with onion juice could increase your scalp's blood circulation, boosting hair growth.
Preventing Premature Hair Graying
Onion juice has catalase, an antioxidant that reduces hydrogen peroxide at the hair root. Hydrogen peroxide is the primary cause of hair graying. Therefore, onion juice prevents hair graying by reducing hydrogen peroxide levels.
Nourishing and Moisturizing Dry Hair
Onion juice has several micronutrients. Therefore, it nourishes and moisturizes dry hair. Also, it has flavonoids, antioxidants with anti-inflammatory properties, and the ability to boost blood supply to the hair roots.
Removing Dandruff
Dandruff is a common and annoying hair problem. Fungal or bacterial infection can cause dandruff. When you have dandruff, your scalp becomes itchy and dry. Onion juice has anti-microbial and anti-fungal properties that help remove dandruff.
Curing an Itchy and Dry Scalp
The anti-inflammatory properties enable onion juice to soothe an itchy and dry scalp. Also, this juice increases blood supply, which moisturizes the scalp.
Using Onion Juice to Stop Hair Loss
You can follow this simple process to prepare and use onion juice to stop hair loss.
Peel and chop four onions into small pieces.
Extract juice from the small pieces using a juicer or by squeezing them.
You can also blend the onion pieces into a paste and place it in cheesecloth to squeeze the juice.
Apply the liquid to the hair roots or scalp.
Add essential oil, such as lavender, rosemary, or peppermint, to lower the onion juice's potent odor.
Use Onion Shampoo for Hair Fall Control
Do you want to use onion to stop or prevent hair loss? If so, try WOW onion shampoo. This organic skincare product has nutrients, vitamin E, and antioxidants that control hair loss and promote growth. This haircare product protects and moisturizes weak hair. Besides having vitamin E, nutrients, and antioxidants, this product doesn't have sulfates, parabens, and silicones.
It reduces dandruff, preventing excessive dryness, hair loss, and scalp eruptions. Moreover, it supports hair growth and enhances scalp health. Furthermore, it strengthens hair roots and improves hydration to strengthen and soothe your hair. Using WOW onion shampoo will smoothen your hair cuticles and make your strands lustrous and glossy. Additionally, it will enhance circulation to your scalp and hair roots. Try this haircare product to cleanse the buildup while improving the quality of your strands.