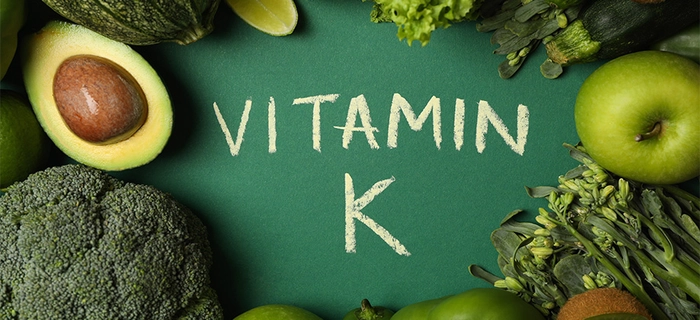 How many of us know what role vitamins have to play in our body? We have all heard that vitamins and minerals are essential for bodily functions. But how much do we know in detail what role each of these vitamins play?
Vitamins are a group of substances required for the growth, functioning, and development of the cells. There are 13 different and most essential vitamins and these are crucial for proper body functioning. Vitamin A, C, D, E, K, B1, B2, B3, B6, B12, Pantothenic Acid (B5), Biotin (B7) and Folate (Folic Acid or B9).
Out of all the vitamins we have heard of, Vitamin K is gaining a lot of recognition. We are familiar with Vitamin A, C, D and so on. What is Vitamin K all about? Let us explore in detail what Vitamin K is and its role in our body.
What is Vitamin K?
Vitamin K is a group of vitamins that help clotting of blood, and healing of the wound if any. It is also believed that Vitamin K takes care of bone health. Let us dive a little deep into its functions.
What is the function of vitamin K?
There are two types of vitamin K – Vitamin K1 and Vitamin K2. These two forms of Vitamin K are present in the human body.
How does vitamins K1 and K2 work?
Vitamin K1 is also known as phylloquinone and is present in plant food, leafy greens and vegetables. Research says that green leafy food and vegetables makes up to about 70% to 90% of vitamin K.
Vitamin K2 is mostly found in fermented foods and animal products. It is also produced by the gut of bacteria.
Why should we include Vitamin K in our diet?
The benefits of vitamin k to our body are tremendous. It is one of the nutrients that everybody needs to stay fit and healthy.
Facilitates coagulation of blood
This group of fat-soluble vitamins play a huge role in blood clotting. Our body is dependent on Vitamin K to produce prothrombin, which facilitates coagulation of blood.
We all know that healthy bones need calcium and vitamin D. Did you know that our bones need vitamin k too? Some of the recent studies have shown that vitamin k has the power to activate proteins associated with bone formation and mineralization. Mineralization is a process that makes bone strong.
Preserves cardiovascular health
Experts say that if one has vitamin k deficiency, there will be an increase in calcium deposition and coronary artery calcification which may lead to cardiovascular diseases. Hence, intake of good vitamin K takes care of the heart health.
Reverse Aging & Prevent Wrinkles
Vitamin K is packed with anti-inflammatory and antioxidant properties which prevents wrinkles and delays aging. It protects the collagen in the body which makes the skin to appear more plump, smooth and young. Now you know the secret to look young?
Effective Strategies for Preventing Kidney Stones
Balanced level of vitamin k in the body controls the calcium levels in the blood and around the artery walls. In a study of about 1750 women and men, a set of doctors took the reading of a particular protein that promotes calcium buildup. While they did this, they realized it needs vitamin k for the protein to get activated. The study results showed that people who lower vitamin k had higher changes of developing kidney stones. This study interprets that increasing vitamin k in the diet or adding vitamin k supplements would prevent the formation of kidney stones
Managing Anxiety and Depression
Usually, when sugar levels go high in the blood, symptoms related to mental health problems show up. Vitamin K is an amazing supplement to normalize glucose level in the blood which helps manage anxiety, depression and other mental health issues.
We have earlier seen how vitamin k is essential for the clotting of blood and bone health. Beyond these, vitamin k also protects body against cancer, heart diseases, acts as an insulin resistance guarding the body against type 2 diabetes.
What is the role of Vitamin K2 in our body?
We have seen in detail how vitamin k is essential for our body. To add to this, Vitamin K2 contributes to the health of the skin, bone metabolism, functioning of the brain, and prevention against heart related diseases. It is also important to balance the build of calcium in the body which essentially controls the development of stones or calcium deposits in the body.
How & when to take this?
Vitamin K can be consumed in our daily diet or can be included through external supplements. It is recommended to consume it through variety of foods like
Green vegetables like broccoli, spinach, lettuce
Through oils extracted from vegetables – vegetable oil
Exotic fruits like blueberries and fig
Meet, eggs, cheese and soya
Usually, the amount of vitamin k required for our body can be achieved through a balanced diet. However, vitamin k supplement is also recommended.
How much vitamin K do you need per day?
For an adult who is 19 and above, 75 mcg to 120 mcg of vitamin k supplement can be consumed per day. It is nowhere reported that excessive consumption of vitamin k causes any harm. However, it is good to consume in a balanced quantity.
Conclusion
Vitamin K though not known much earlier is gaining attention as it promotes good heart and bone health. To gain an optimum health, let us focus on consuming food sources rich in vitamin k and make the best of it.