WOW Skin Science Apple Cider Vinegar Shampoo - 200 ml
Roll over or click image to zoom in
WOW Skin Science Apple Cider Vinegar Shampoo - 200 ml
|
Earn Pro Point Worth
₹12.45
Join Now
customers are viewing this product
Powered with 100% pure, unfiltered and unpasteurized Apple Cider Vinegar, Sweet Almond Oil and Argan Oil; it helps gently detoxify the hair & scalp by clearing up the buildups caused by dust, pollution, dead scalp cells and styling products. WOW Skin Science Apple Cider Vinegar Shampoo does not contain any harmful chemicals like Sulphates or Parabens
---
BEST-SELLING & MOST LOVED SHAMPOO For Healthy Scalp & Silky, Soft, Flake-Free hair
Keep your frizzy hair in control and enjoy an overall smooth, frizz-free mane.
---
Keeps dandruff and flakes in check for a lighter, cleaner and an itch-free feel.
Regular use helps bring silkiness, strength, and gloss to the hair.
---
Helps remove tangles, closes up the cuticles, improves porosity - all of which lead to a reduction in split ends and breakage.
---
Formulated to deliver natural & healthy scalp and hair care
100% Pure ACV
---
Premium shampoo powered with 100% pure, unfiltered & unpasteurized Apple Cider Vinegar, Sweet Almond Oil & Argan Oil
Gentle Shampoo
---
Gently detoxifies the hair & scalp by clearing up the buildups due to dust, pollution, dead scalp cells & styling products
Helps Remove Dandruff
---
Checks dandruff & flakes; helps bring silkiness, strength & gloss to the hair
---
Key Ingredients
---
HOW TO USE WOW SKIN SCIENCE APPLE CIDER VINEGAR SHAMPOO
STEP 1
Wet your hair with lukewarm water. Massage on a small amount through the wet hair & scalp.
STEP 2
Lather & massage the scalp using your fingertips (not nails). Leave the lather on for 5 minutes.
STEP 3
Wash it off clean & follow with a cold water (37.8℃ is the sweet spot!) rinse.
Customer Reviews
Filter Reviews:
hair
dandruff
shampoo
Smell
fragrance
result
apple cider vinegar
magic
aloe vera gel
packaging
suman C.
India
09/21/2020
Best mild shampoo
Shampoo has a good quality. It is chemical free and is makes hair silky and soft . It has a very good fragrance. It works well on dandruff.
piyush k.
India
09/20/2020
#natural products
The Natural products free from all the harmful stuff which are mainly found in all the beauty products helps to keep skin happy
Ashita
India
09/20/2020
Best product till date
M using this product from past 2 years...the shampoo Apple Cider the conditioner coconut and the aloe vera gel add magic to my hair I can say that u will never regret after using this.... Smell of the conditioner is way too good ... I also use onion seed oil ... After using that I get my volume back... And get a lot of baby hair on my forehead.... A very happy and satisfying experience.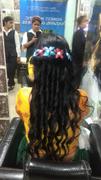 Mota K.
India
09/20/2020
Its a very goodshampoo I m totally love with that user could not except the overnight result by using ND using results can be shown
Nilotpal G.
India
09/18/2020
Very nice product
I am very happy using this product, now I am experiencing less itching in the scalp and less hair fall. Very happy with the product.