WOW Skin Science Himalayan Rose Hair Mask with Rose Hydrosol, Coconut Oil, Almond Oil & Argan Oil - For Volumnising Hair, Anti Smelly Scalp - No Parabens, Sulphate, Silicones, Color & PEG - 200 ml
WOW Skin Science Himalayan Rose Hair Mask with Rose Hydrosol, Coconut Oil, Almond Oil & Argan Oil - For Volumnising Hair, Anti Smelly Scalp - No Parabens, Sulphate, Silicones, Color & PEG - 200 ml
|
Inclusive of all taxes
Earn Pro Point Worth
₹27.45
Launch
customers are viewing this product
Help restore strength to your weak, brittle strands and add softness to your hair with the nourishing benefits of WOW Skin Science Himalayan Rose Hair Mask. It is a volumizing hair mask that helps to add lush movement to your weak, dull, lifeless hair. It also leaves your hair smelling fresh and fragrant. The hair mask is infused with the soothing and moisturizing goodness of rose hydrosol, coconut oil, sweet almond oil, argan oil and hydrolyzed wheat protein. It is a gentle hair mask that protects hair and restores its natural moisture barrier giving it a smooth, soft texture and healthy, lustrous appearance.
---
ANTI ODOR, SHINE BOOSTING HAIR MASK
Volumizing and shine enhancing hair mask to help revive dry, brittle, damaged hair.
---
Helps to moisturize and nourish the strands and reduce breakage and brittleness.
Supports in adding bounce and movement to hair and removes bad odor from scalp.
---
Infused with natural actives that help lift the roots and add lush volume to hair.
---
WHY YOU WOULD LOVE THIS HAIR MASK
Helps to restore volume and shine to hair
---
The natural actives strengthen the strands and smoothen the cuticles to improve texture and appearance.
Helps to remove bad odor from
---
Rose hydrosol not only moisturizes the strands but also leaves your hair fragrant with a soothing floral scent.
Helps to moisturize and protect the strands
---
Hydrolyzed wheat protein, argan oil and coconut oil aid in repairing damaged strands making them strong and luxuriant.
---
Key Ingredients
---
How to Use
STEP 1
Wash your hair and squeeze out extra water. Take the hair mask and emulsify in your palm. Apply on the strands going from mid-length to the tip. Smooth leftover product on the rest of the hair on top. Avoid applying to the scalp.
STEP 2
Finger comb the hair and emulsify the mask through the hair to allow it to penetrate the shafts. Rinse thoroughly with plenty of plain water. Follow with a cold-water rinse to lay the cuticles flat for extra smoothness and shine.
STEP 3
For intensive care, wrap hair in a hot towel for 20 minutes after applying the hair mask. Rinse as usual for super soft and clean hair
Customer Reviews
Filter Reviews:
hair
quality
dandruff
hair density
Works
Consistency
packaging
manegeable
Thermos
hair mask category
Karuna d.

India
AV
AVINASH V.

India
01/30/2021
Rose hair mask
It's actually a good product .It makes my hair density more .it's also improve the quality of my hair .it's also helpful for dandruff and hairloss too . Wow is perfect very nice product they have I love these as well as wow others product too aswell there packaging is also very lovely love wow Awesome product....it really made my hair very soft and manegeable in just one trial....just luuv it..❤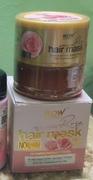 Ashu

India
NISHIDA P.

India
11/16/2020
Wow...
Wonderful product....
Vina S.

India
11/02/2020
Rose hair mask review.
It's actually a good product .It makes my hair density more .it's also improve the quality of my hair .it's also helpful for dandruff and hairloss too .