Give new lease of life to dull, lusterless skin with WOW Skin Science Brightening Vitamin C Face Wash. It is a skin-reviving face wash that helps to refresh dull skin by gently removing layer of dead skin and keeping excess sebum in check. The face wash tube comes attached with a face brush with gentle silicone bristles to help give your face deep cleansing on surface and clears out the pores. It is infused with active vitamin C, orange and lemon essential oils, liquorice and mulberry extracts that help to improve your skin's texture and appearance.
You Can Buy Our Vitamin C Face Wash With Built Brush At Best Price From : Amazon, Flipkart, Nykaa, Purplle
---
WOW Skin Science Brightening Vitamin C Face Wash Tube with Brush

Helps to deep cleanse the skin and purify the pores.
---

Helps to fade age spots and even out patchy complexion.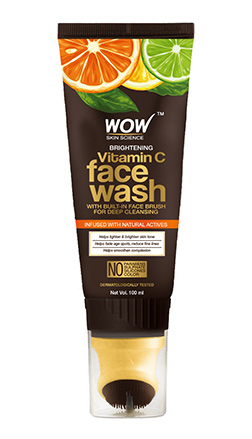 Refreshes dull, tired skin.
---

Helps to calm dry, sensitised irritated skin.
---
WHY YOU WOULD LOVE THIS FACE WASH
Helps to remove dead skin layer and refine pores

---
The soft, pliable bristles of the face brush support deep cleansing of the skin. It helps to clear out the pores and soften skin.
Helps to even out skin tone and brighten complexion

---
The wash has powerful antioxidant and melanin blockers that keep excess melanin in check and boost skin radiance.
Helps to prep skin for better hydration

---
This foaming face wash with built-in brush helps to clear away dirt and pollutants from the skin, which helps the skin to absorb beneficial actives from moisturizers better.
---
Key Ingredients
---
How to use
Splash some water on the face and neck. Squeeze out a little amount of the face wash onto the brush and apply it all over your face and neck. Massage your skin with the brush in a circular motion on your face and neck to remove dirt. Move from the base of your neck to the jawline and then upwards to the cheeks, nose, and forehead.Do this for a minute or so, and then rinse thoroughly with plain water. As a final rinse splash your face with cool water to close the pores and tone up the skin. Pat dry and follow with a moisturizer.
---
Explore the entire range of Face Wash available on BuyWOW. You can browse through the complete list of Vitamin C Products.
Shop Other WOW Skin Science Face Wash:
Manufacturer Name :
Country of Origin :
Marketed By & Contact details : Body Cupid Pvt Ltd - 4th Floor, Prestige Dotcom, Field Marshal Cariappa Road, Srinivas Nagar, Shanthala Nagar, Ashok Nagar, Bengaluru – 560025, Karnataka, India.
Customer Care Details:
E-mail : support@buywow.in
Phone Number: +91-80-42896000
This product has a shelf life of 24 months from the date of manufacture. Please use within 24 months for best results.