PRODUCT DETAILS
Wow Life Science Body Cleanse Supplement is formulated to cleanse your body through gentle laxative action and help improve your overall health. It helps by cleaning out your colon and detoxifying your gut. The benefits are multifold: enhanced energy, better digestion, faster metabolism, less bloating, healthy weight loss, and healthier-looking skin. The supplement is a blend of well-known herbal laxatives, and antioxidants like amla (Indian gooseberry).
---
FORMULATED TO PROVIDE COMPLETE BODY DETOX AND BOOST METABOLISM

Helps rejuvenate your body and health
---

Helps Soothe irritable bowel conditions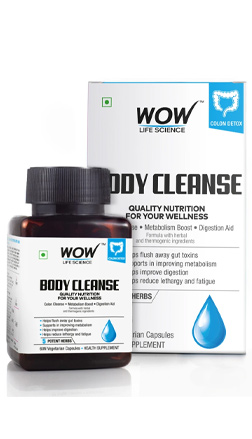 Helps improve overall skin condition
---

Helps treat constipation and helps in weight loss
---
BODY CLEANSE SUPPLEMENT TO IMPROVE DIGESTION AND WELLBEING

Dietary supplement for thorough colon cleansing.

Contains high fiber, thermogenic actives to boost metabolism and burn fat.

Made of actives like Amla, Behera, Black Myrobalan (Harad), Cape Aloe, and Marshmallow Root.

Each supplement capsule contains a 750mg blend of ingredients for safe and healthy detox action.

It is natural, vegetarian, gluten-free.
---
Key Ingredients
---
Emblica officinalis extract, Althaea officinalis extract, Terminalia belerica extract, Terminalia Chebula extract, Aloe ferox extract, Magnesium stearate (INS 470 (iii)), Talc (INS 553 (iii)).