WOW Skin Science Charcoal & Keratin Shampoo - No Sulphates, Parabens, Silicones, Salt & Color - 300 ml
Roll over or click image to zoom in
WOW Skin Science Charcoal & Keratin Shampoo - No Sulphates, Parabens, Silicones, Salt & Color - 300 ml
|
Earn Pro Point Worth
₹24.95
Join Now
customers are viewing this product
WOW Skin Science Activated Charcoal & Keratin Shampoo gives dull, limp, thin and lifeless hair advanced cleansing, clarifying and repairing care. Powered with Activated Charcoal and Hydrolyzed Keratin Protein. Removes scalp buildups caused by dead cells and chemical laden hair styling products. Activated charcoal gently traps, binds and washes away buildups along with dirt and grime to cleanse hair and scalp without stripping hair's own healthy oils. Hydrolyzed Keratin Protein provides essential nutrients to hair follicles and penetrates hair shafts to repair this damage and restore strength. Totally without sulphates, parabens, silicones, color or salt. 300 mL pump bottle.
---
HOLISTICALLY HEALTHY FORMULA REPAIR HAIR DAMAGE AND RESTORES STRENGTH
Formulated for dull, limp, thin and lifeless hair caused by dead cells, rough handling, scalp buildups, and chemical laden styling products.
---
Removes scalp buildups, repair hair damage and restores strength.
Gently traps, binds and washes away buildups, dirt and grime. Repairs hair shafts and restores strength.
---
Holistically healthy formula totally without sulphates, parabens, silicones or salt.
---
Key Ingredients
---
How to use WOW Skin Science Charcoal & Keratin Shampoo
STEP 1
Take a coin size amount in your palm and rub between the palms to spread the product. Apply all over your hair.
STEP 2
Lather up. Starting at the nape of your neck, massage the shampoo on your scalp in circular motion going to the top.
STEP 3
Rinse with lukewarm water and condition as usual for shiny, healthy hair.
Customer Reviews
Dipesh D.
India
09/16/2020
Awesome product
Ya I really loved the products mainly the keratin shampoo, i am now just addicted to wow products as they have become part of my life and I have aslo referred my brother's to buy this products and they too loved it.... Keep going and keep making such amazing quality products and I am definitely looking forward for many more.
Sangeeta R.
India
08/30/2020
Really Good
I really like this shampoo
parnika b.
India
08/05/2020
excellent
my hair was very soft and smooth... definitely will buy again
Priyanka B.
India
07/10/2020
Awesome
It smells awesome.... It doesn't dry out my hair... I really like this shampoo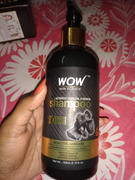 Hi Priyanka! Thank you so much for sharing your amazing user experience with us. It fills us with joy to see satisfied customers like you, to know you're happy with our product is a great feeling. Thanks again & have a great day!!
Hearty
India
06/15/2020
Excellent
Loved it... was using Apple Cider Shampoo since years but this time thought to try this and It's working as wonderfully as other. Good Result.
Hey Hearty! We appreciate your wonderful review. Your satisfaction is our number one concern and we promise to stay reliable :) Have a beautiful day ahead!