Aloe Vera Foaming Face Wash - with Aloe Vera Extract & Vitamin B5 - for Cleansing & Hydrating Skin - No Sulphate, Parabens, Silicones, Fragrance & Color - 100 ml
MRP :
₹349.00
₹314.00
-11% OFF
Give your skin the gift of gentle and wholesome cleansing with WOW Skin Science Aloe Vera Foaming Face Wash. Delivers the goodness of aloe vera barbadensis leaf extract, hyaluronic acid, green tea extract, calendula flower extract and cucumber extract. Th face wash helps to cleanse, tone, hydrate and soothe your skin. It effectively removes dirt and grime, calms and balances dehydrated, sensitive skin conditions. It aids in reducing the appearance of fine lines and improve skin texture. The gentle wash maintains skin's moisture barrier and helps to reduce redness and irritations. It leaves the skin hydrated and soft as the actives help to protect and repair your skin. Aloe vera leaf extract in the face wash is a mineral and moisture rich active that nourishes and hydrates the skin. Green tea is loaded with antioxidants that help to neutralize free radicals and protect skin from damage. Calendula has oleanic acid and quercetin that deliver antioxidant protection for skin. Cucumber, rich in vitamin C, silica and caffeic acid helps soothe and rejuvenate skin. Hyaluronic Acid a naturally occurring, moisture-binding molecule that holds up to 1000 times its weight in water; helps to improve hydration at cellular level.
You Can Buy Our Aloe Vera Foaming Face Wash At Best Price From : Amazon, Flipkart, Nykaa, Purplle
---
WHY YOU WOULD LOVE THIS FACE WASH

Helps to remove impurities from skin.
---

Helps to hydrate and nourish dry, sensitive skin.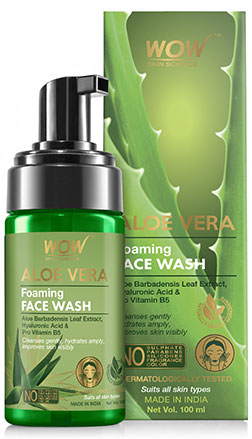 Helps to repair damage and make skin soft and supple.
---
---
Key Ingredients
---
HOW TO USE
Wet your face and neck. Pump a small amount of face wash onto your palm and apply on your face and neck. Gently massage this foamy cleanser onto damp skin with your fingertips for 1-2 minutes. Wash off with plenty of plain water. As a final rinse splash your face with cool water to close the pores and tone up the skin. Pat dry.
---
Explore the entire range of Face Wash available on BuyWOW. You can browse through the complete list of Aloe Vera Products.
Shop Other WOW Skin Science Face Wash:
---
Manufacturing Information
Manufactured by : Kapco International Limited, Plot No 10-11, Sector 3, Parwanoo, Himachal Pradesh 173220, India
Country of Origin : India
Marketed By : Body Cupid Pvt Ltd. #51, IndiQube Penta, 5th Floor, Richmond Road, Bengaluru 560025, Karnataka - India.
*As our products are made with natural ingredients and made in small batches, there may be slight variations in their color and fragrance.
Customer Reviews
Write a Review
Ask a Question
04/14/2022
Salman D.

India
This Product I am using and Result
and Result Is so good I am now So Lighting and Glowing face love you Wow
Hi, Salman. thank you so much for taking the time to send us the review. We are comforted to know this. We hope you continue to appreciate our items as much as you do now. -Tasmiya
04/01/2022
Nirav S.

India
Suberb product
My wife and daughters are using it daily
Thank you so much for your amazing review! We are so happy to hear that you are enjoying your product purchase . -Shammi
08/12/2021
Sudeshna B.

India
Aloe Vera Foaming Face Wash review
Wow wow wow wow wow and just wow......