Amla Hair Oil - Pure Cold Pressed Indian Gooseberry Oil - Intensive Hair Care - with Comb Applicator - Non-Sticky & Non-Greasy - No Mineral Oil, Silicones, Synthetic Fragrance - 100 ml
Care for your weak roots and dry, dull, brittle hair with WOW Skin Science Amla Hair Oil With Comb Applicator. This all-natural hair oil delivers the nutrients directly to your roots and protect the weak strands with its conditioning effect. It supports in reviving your breakage-prone hair and soothe irritated scalp. It is infused with the goodness of amla or Indian gooseberry and lemon essential oil. These potent actives are blended with hair-nourishing, cold-pressed oils rich in omega fatty acids, vitamin E, minerals and antioxidants. These actives help to boost circulation in the scalp, strengthen the roots, reduce dryness and itchiness, control dandruff, soften hair, and give hair a healthy shine. It is a lightweight oil that gets easily absorbed into the scalp. Ideal for those with dry scalp and fragile hair. Results may vary depending on usage and condition of your hair. The bottle comes with a Comb Applicator to ensure easy and thorough application from roots to tip.
---
Hair oil for dull, brittle hair and weak roots

A lightweight, non-greasy hair oil for dry, brittle hair and weak roots.
---

Delivers potent nutrients from the actives to the scalp and roots.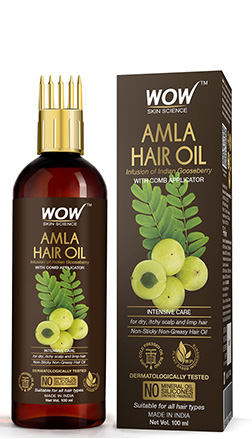 Helps to protect strands from damage and restore healthy shine.
---

Supports in boosting circulation to the scalp and stimulate the roots.
---
WHY YOU WOULD LOVE THIS HAIR OIL
Helps to protect dull, dry and brittle hair

---
This unique blend with amla extract and lemon essential oil delivers antioxidant protection and nourishment.
Helps to reduce dryness and itchy scalp

---
Vitamin E and omega 3 fatty acid enriched oil keeps strands and scalp moisturized and minimizes scalp irritation.
Complete care for your hair

---
Regular use ensures lustrous locks. Intensive hair care that suits all scalp and hair types.
---
KEY INGREDIENTS
Extra Virgin Olive Oil, Sweet Almond Oil, Sunflower Seed Oil, Castor Oil, Moroccan Argan Oil, Coconut Oil, Amla Oil Extract, Tocopheryl Acetate (Vitamin E) & Lemon Essential Oil.
---
HOW TO USE WOW Skin Science Amla Hair Oil
Unscrew the cap and attach the applicator to the bottle top. To prevent clogging, wipe the applicator after each use. Tilt the bottle on to your scalp and then squeeze out the oil as you comb through the hair with the applicator. Massage the roots with your fingers and work the oil through the strands.
---
Buy our Amla Hair Oil Comb Applicator at best price from
---
Explore the entire range of Hair Oil available on BuyWOW.
Shop Other WOW Skin Science Hair Oil:
Shop Amla Related Products :
---
Manufacturing Information
Manufactured by : Kapco International Limited, Plot No 10-11, Sector 3, Parwanoo, Himachal Pradesh 173220, India
Country of Origin : India
Marketed By : Body Cupid Pvt Ltd. #51, IndiQube Penta, 5th Floor, Richmond Road, Bengaluru 560025, Karnataka - India.
*As our products are made with natural ingredients and made in small batches, there may be slight variations in their color and fragrance.