WOW Skin Science Brightening Vitamin C Face Wash Gel with Built-In Face Brush for Deep Cleansing - No Parabens, Sulphate, Silicones & Color - Tube, 100 ml
WOW Skin Science Brightening Vitamin C Face Wash Gel with Built-In Face Brush for Deep Cleansing - No Parabens, Sulphate, Silicones & Color - Tube, 100 ml
|
Inclusive of all taxes
Earn Pro Point Worth
₹19.95
Launch
customers are viewing this product
Give new lease of life to dull, lusterless skin with WOW Skin Science Brightening Vitamin C Face Wash. It is a skin-reviving face wash that helps to refresh dull skin by gently removing layer of dead skin and keeping excess sebum in check. The face wash tube comes attached with a face brush with gentle silicone bristles to help give your face deep cleansing on surface and clears out the pores. It is infused with active vitamin C, orange and lemon essential oils, liquorice and mulberry extracts that help to improve your skin's texture and appearance.
---
WOW Skin Science Brightening Vitamin C Face Wash Tube with Brush
Helps to deep cleanse the skin and purify the pores.
---
Helps to fade age spots and even out patchy complexion.
Refreshes dull, tired skin.
---
Helps to calm dry, sensitised irritated skin.
---
WHY YOU WOULD LOVE THIS FACE WASH
Helps to remove dead skin layer and refine pores
---
The soft, pliable bristles of the face brush support deep cleansing of the skin. It helps to clear out the pores and soften skin.
Helps to even out skin tone and brighten complexion
---
The wash has powerful antioxidant and melanin blockers that keep excess melanin in check and boost skin radiance.
Helps to prep skin for better hydration
---
This foaming face wash with built-in brush helps to clear away dirt and pollutants from the skin, which helps the skin to absorb beneficial actives from moisturizers better.
---
Key Ingredients
---
How to use
Splash some water on the face and neck. Squeeze out a little amount of the face wash onto the brush and apply it all over your face and neck.Massage your skin with the brush in a circular motion on your face and neck to remove dirt. Move from the base of your neck to the jawline and then upwards to the cheeks, nose, and forehead.Do this for a minute or so, and then rinse thoroughly with plain water. As a final rinse splash your face with cool water to close the pores and tone up the skin. Pat dry and follow with a moisturizer.
Customer Reviews
Write a Review
Ask a Question
Filter Reviews:
face
skin
results
brush
Vitamin c
spots
average
wash
life
dryness
05/16/2021
Sarika P.

India
feedback on Wow products
It's really nice, i can't really explain how good it is but m going to use this from now on.
05/16/2021
sufyan s.

India
excellent
good products, sees results wich they promise.
05/15/2021
Ram R.

India
Wow is "WOW"
Just too good! i should say, it's "WOW"
05/14/2021
Manisha S.

India
Very good product .... satisfied
I'm using this product first time and it is a great product ,after applying this face wash my skin become very soft and oil free. I really like the product.
05/14/2021
Govind T.

India
Excellent Product
Excellent Product
05/12/2021
Harshit

India
Awesome Product
Loved it totally
05/12/2021
Rounav P.

India
Nice Products
Feels fresh after using it.
05/12/2021
Kajal S.

India
Wow products review
I am using wow face wash and shampoo and conditioner n waw hair oil also...very much happy with all products... result are really good.. definitely I will buy other products...
05/12/2021
Rachana T.

India
Wow vitamin C
Awesome, instantly brightens and deep cleanses my face ❤️
05/11/2021
Yukti M.

India
Excellent
This facewash is really gentle on my skin. Totally loved it❤️
04/30/2021
Afrida P.

India
04/26/2021
Anshi

India
Packaging
I just like this brush
Hi Anshi!! Thanks a lot Have an amazing day! Stay safe!! -sh
04/03/2021
Ankit b.

India
BEST FACEWASH
Overall product is good , nice cleaning , face gets refreshed instantly.
02/04/2021
Anika

India
Nice product
This facewash is excellent. I started using it by ordering a sampler. Now I purchased a big one. Happy with the results. Must buy!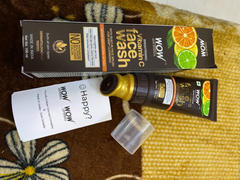 Hello Anika! Thanks so much for sharing your experience with us, we are incredibly grateful that you took the time out to leave us an amazing review Cheers! -sh
12/31/2020
Sangeeta R.

India
12/02/2020
arshiya

India
best product
its one of my best product i ever had in my life just try it it will give best output
Hi! Thank you so much for this awesome review! We really appreciate you being a customer and helping to share the word about us! We're here for you anytime! -sh
10/24/2020
Pranita V.

India
Excellent
Awesome... Just wow...
09/20/2020
Sangeeta R.

India
09/17/2020
Seema

India