WOW Skin Science Chocolate Caffeine Face Mask for Recharging & Rejuvenating Dull Skin - No Parabens, Sulphate, Mineral Oil & Color - 200 ml
WOW Skin Science Chocolate Caffeine Face Mask for Recharging & Rejuvenating Dull Skin - No Parabens, Sulphate, Mineral Oil & Color - 200 ml
|
Inclusive of all taxes
Earn Pro Point Worth
₹24.95
Launch
customers are viewing this product
Help your dull skin get energized and refreshed with WOW Skin Science Chocolate Caffeine Face Mask.
It helps to draw out deep-seated impurities and remove dead skin cells. This helps in stimulating collagen production, thus improving skin structure and firmness. This mask also helps to boost blood circulation to the skin, which in turn reduces puffiness caused by tiredness and aging. This restores skin's natural moisture levels that improve skin elasticity and suppleness. The mask improves complexion and gives it a youthful sheen.
The mask is formulated with caffeine, cocoa powder, cocoa butter, bentonite clay and extra virgin olive oil. Both caffeine and cocoa powder are natural skin protectors that help to keep skin irritations at bay, fight free radicals and keep skin safe from pollutants and UV rays. Cocoa powder also supports the skin-regeneration process. Bentonite clay helps to tone and firm skin, and even out patchy complexion. Your skin feels smoother and toned. Cocoa butter and extra virgin olive oil helps to restore skin's natural moisture levels that improve skin elasticity and suppleness. So your skin feels supple and gets a youthful sheen.
Customer Reviews
Write a Review
Ask a Question
Filter Reviews:
skin
face
mask
difference
face pack
impurities
skin cells
aloe
water
product quality
05/17/2021
Aarushi A.

India
Amazing
The product is superb and it does what it promises.
03/16/2021
Sreyashi P.

India
Very Good
It really rejuvenates the dull skin
11/22/2020
darshan

India
for your skin
i was used this product for last 3 months and i was so happy to this product and satisfy for this product quality. nicely done wowscience.
10/11/2020
Bikramjeet

India
I like it
Nyc like it so much...
10/03/2020
Sweta V.

India
Wow
I like this face pack very much.
09/18/2020
Nisarg J.

India
They are just awesome
I have been using wow products from 2 years and the products are fantastic. I just love them. Hoping to see more such products
09/09/2020
Sayan C.

India
09/09/2020
Kashish p.

India
Amazing product
This mask works wonders for my skin. Has a chocolate smell and is amazing.would definitely recommend it on my skincare blog
08/31/2020
Sneha C.

India
Very Effective
Really smell like pure chocolate and dark Coffee .Good product. Just wow
08/29/2020
Shalini

India
08/27/2020
Athira S.

India
Wow... I would love
Felling woww. Super. I like it
08/06/2020
Navneet K.

India
Very effective
Very good for pores and skin toning
07/15/2020
Anirudh a.

India
Amazing product
I am using this product since 3 weeks now and my face has shown improvement. Dead skin cells, dirt, oil is instantly removed once you apply and wash your face with this face mask. The wonderful chocolate aroma energizes the face and removes the dullness. Overall a must buy product.
07/14/2020
Janmejay

India
Best Caffeine Mask
I find this chocolate mask really good. Not only it smells good, but also it gives you a energised face glow after using it.Just apply it on your face and clean it when it dries. ACV facewash + Peel Off + Chocolate caffeine mask is the best combo to brighten your face. Must Try :)
06/21/2020
Prince d.

India
Awesome product
Amazing!!!I I m using this from last 2 months...and its amazing...helps to recharge ur dull skin...i use it twice a week... For 15 mins and rinse it with lukewarm water and then apply a moisturizer ( wow aloe Vera gel)....i must say I really feel the difference...... thanks wow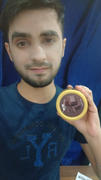 Hi Prince! We really appreciate you taking the time out to share your experience with us! Your kind words mean a lot to us & we're delighted to know you're enjoying our product. Thank you for being an awesome customer :) Have an amazing day ahead!
06/12/2020
Kruanl P.

India
It's good
Nicea and awesome product....nice smell texture of product
05/21/2020
Aadil K.

India
Products is to fantastic
I like the product the way it's clean ur face
just loving the products i buyed
i love your products they are extremely good and i am so obsessed with them that i keep buying their products they are so nice and available at such reasonable rate i lov it