Green Apple Foaming Body Wash - No Parabens, Sulphate, Silicones & Color - 250 ml
WOW Skin Science Green Apple Body Wash has a delightful fruity and crisp fragrance that reminds you of orchard breeze in harvest time. Infused with skin-loving bioactives such as green apple seed extract, shea butter and vitamin E, its rich and sudsy lather indulges your skin leaving it feeling clean, smooth and silken. It is the loveliest way to add pure and crisp joy to your morning and evening bathing times.
You Can Buy Our Green Apple Foaming Body Wash At Best Price From : Amazon, Flipkart, Nykaa, Purplle
---
Formulated to deliver a bathing experience that's great for skin

Leaves skin feeling totally clean, smooth and soft.
---

Leaves your skin richly hydrated for softer, smoother feel.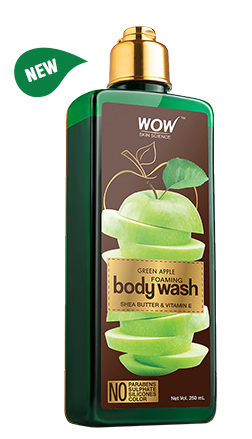 Green Apple Seed Extract, Shea Butter and Vitamin E give your skin healing care and ample nourishment.
---

The rich moisturizing formulation that brings the glow to the skin.
---
Why your skin loves this body wash
No Harsh Ingredients

---
Totally without sulphates, parabens, silicones, mineral oils, salt or color.
Gives Rich Lather

---
Revel in luxurious lather served up by just a bit of this body wash.
Relaxing fragrance

---
The fruity-crisp fragrance of green apples for a spa-like feel to your bath.
---
Key Ingredients
---
HOW TO USE WOW SKIN SCIENCE GREEN APPLE FOAMING BODY WASH
Wet your body thoroughly under shower or in bath. Pour a dollop of shower gel on wet loofah, washcloth or sponge. Lather all over savoring the amazing smell. Rinse off thoroughly and pat your skin dry.
---
Explore the entire range of Body Wash available on BuyWOW.
Shop Other WOW Skin Science Body Wash:
[des]
A lightweight, non-greasy hair oil for dry, brittle hair and weak roots.

Helps to protect strands from damage and restore healthy shine.
Delivers potent nutrients from the actives to the scalp and roots.
Supports in boosting circulation to the scalp and stimulate the roots.
[/des]