Green Tea & Tea Tree Anti Dandruff Shampoo
Combo
Shampoo (300mL)
Shampoo + Conditioner (600mL)
Shampoo + Massager Brush
Refresh your greasy scalp and flaky hair with WOW Skin Science Green Tea & Tea Tree Anti Dandruff Shampoo. The shampoo helps to gently removes dry flakes from the scalp and keep dandruff in check. It helps to refresh greasy hair and keep oily scalp under control. The shampoo helps to prevent dryness and soothe irritated scalp. It helps to add clean, healthy shine to hair. Delivers the purifying goodness of Green Tea, rich in catechins and polyphenols that fight dryness and hair fall. Tea Tree Oil, contains antioxidants that protect the scalp, keep the roots clean and improve blood circulation to the scalp.
You Can Buy Our Green Tea & Tea Tree Anti Dandruff Shampoo At Best Price From : Amazon, Flipkart, Nykaa, Purplle
---
Anti Dandruff Shampoo for Clean Hair & Scalp

Purifying and clarifying shampoo to help fight dandruff and itchy scalp.
---

Infused with natural actives that improve blood circulation the roots.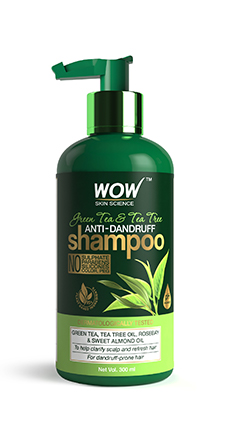 Helps to moisturize and nourish the strands and keep them lush and strong.
---

Helps to control oily scalp and hair and refresh scalp.
---
Key Ingredients
---
How to use WOW Green Tea & Tea Tree Shampoo
Wet hair thoroughly with warm water to open the cuticles gently. Apply a generous amount of the shampoo as per the length and volume of your hair. Massage all over scalp and tresses gently with fingertips for 2-3 minutes. Wash with plenty of plain water. Once all the shampoo is washed out thoroughly, follow with a cold water rinse. Let air dry naturally.
---
Explore the entire range of Shampoo available on BuyWOW.
Shop Other WOW Skin Science Shampoo:
---