WOW Skin Science Green Tea & Tea Tree Anti-Dandruff Shampoo - NO Sulphates, Parabens, Silicones, Color & PEG - 300 ml
WOW Skin Science Green Tea & Tea Tree Anti-Dandruff Shampoo - NO Sulphates, Parabens, Silicones, Color & PEG - 300 ml
|
Inclusive of all taxes
Earn Pro Point Worth
₹19.95
Launch
customers are viewing this product
Refresh your greasy scalp and flaky hair with WOW Skin Science Green Tea & Tea Tree Anti-Dandruff Shampoo. The shampoo helps to gently removes dry flakes from the scalp and keep dandruff in check. It helps to refresh greasy hair and keep oily scalp under control. The shampoo helps to prevent dryness and soothe irritated scalp. It helps to add clean, healthy shine to hair. Delivers the purifying goodness of Green Tea, rich in catechins and polyphenols that fight dryness and hair fall. Tea Tree Oil, contains antioxidants that protect the scalp, keep the roots clean and improve blood circulation to the scalp. Rosebay in the shampoo has clarifying properties that soothe scalp irritations and reduces the appearance of dandruff; Sweet Almond Oil, rich in EFA and vitamin E that moisturize and protect hair and scalp.
Revive your greasy, dandruff-prone hair with WOW Skin Science Green Tea & Tea Tree Anti-Dandruff Shampoo. It is infused with green tea, tea tree, rosebay extracts that help to purify scalp. Sweet almond oil helps to moisturize the strands.

HOW TO USE
Wet hair thoroughly with warm water. Take shampoo in your palm, rub together to emulsify and apply on your scalp and hair length.
Massage the shampoo into your scalp with mild pressure. Continue for 2 to 3 minutes then rub the lather down the length to clean the hair.
Rinse well with plenty of warm water; follow with cold water rinse to seal the cuticles and add smoothness and shine.
Customer Reviews
Filter Reviews:
shampoo
hair
result
dandruff shampoos
Cons
Pros
Smells
thickness
relief
aroma
Karan K.
India
12/27/2020
Thick and low foaming hair enrichment
This is nicer to use than most anti dandruff shampoos . It has a very light aroma compared to other WOW shampoos . It's good to see the thickness and quality of the product is maintained. This shampoo is low foaming and you need to leave it in a minute or two for it to work and enrich your hair follicles and hair. You can feel the difference after using it , more body and shine .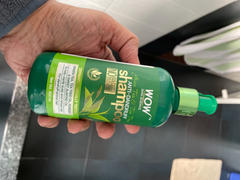 Arun
India
Harender L.
India
10/19/2020
Excellent shampoo
Its very nice shampoo. Doing great on my hairs. Happy from the results Also its free from harmful chemicals
GITASHREE H.
India
10/02/2020
Excellent
Very good result
Sripan K.
India
09/27/2020
Good product
It's a very thick shampoo unlike any other shampoo I've used till date. Pros - Only product that that worked on my dandruff till date. I have severe dandruff and have used many cosmetic and medicated products, but nothing has worked for me. Though this shampoo has not 100 percent removed my dandruff, but its doing better after every wash. Cons - it makes scalp little itchy and I tend to wash my hair little more often than before .. but will continue using it as its a relief for Dandruff (have been using Apple cider vinegar one for past 2 years)