WOW Skin Science Green Tea & Tea Tree Anti-Dandruff Shampoo - NO Sulphates, Parabens, Silicones, Color & PEG - 300 ml
WOW Skin Science Green Tea & Tea Tree Anti-Dandruff Shampoo - NO Sulphates, Parabens, Silicones, Color & PEG - 300 ml
|
Inclusive of all taxes
Earn Pro Point Worth
₹19.95
Launch
customers are viewing this product
Refresh your greasy scalp and flaky hair with WOW Skin Science Green Tea & Tea Tree Anti-Dandruff Shampoo. The shampoo helps to gently removes dry flakes from the scalp and keep dandruff in check. It helps to refresh greasy hair and keep oily scalp under control. The shampoo helps to prevent dryness and soothe irritated scalp. It helps to add clean, healthy shine to hair. Delivers the purifying goodness of Green Tea, rich in catechins and polyphenols that fight dryness and hair fall. Tea Tree Oil, contains antioxidants that protect the scalp, keep the roots clean and improve blood circulation to the scalp.
---
Anti-Dandruff Shampoo for Clean Hair & Scalp
Purifying and clarifying shampoo to help fight dandruff and itchy scalp.
---
Infused with natural actives that improve blood circulation the roots.
Helps to moisturize and nourish the strands and keep them lush and strong.
---
Helps to control oily scalp and hair and refresh scalp.
---
Key Ingredients
---
How to use WOW Green Tea & Tea Tree Shampoo
Wet hair thoroughly with warm water to open the cuticles gently. Apply a generous amount of the shampoo as per the length and volume of your hair. Massage all over scalp and tresses gently with fingertips for 2-3 minutes. Wash with plenty of plain water. Once all the shampoo is washed out thoroughly, follow with a cold water rinse. Let air dry naturally.
---
Customer Reviews
Write a Review
Ask a Question
Filter Reviews:
shampoo
result
hair
wash
thickness
good
relief
aroma
Nice
apple cider vinegar
04/18/2021
Sandeep K.

India
Osom
Bhut Nice product result seen in Two wash
04/18/2021
Bibekananda R.

India
PRODUCT
GOOD ,LOVED THE PRODUCT,SATISFY
04/08/2021
Adesh K.

India
Value for Money
It was a great experience using this world class shampoo. I was having major dandruff issue from very long time after using this shampoo for week my dandruff problem is completely vanished and I'm feeling relaxed.
04/03/2021
Tanushree P.

India
Best products and packaging
Good and natural products no hamrfull chemical
03/27/2021
Harsha

India
Great Product
Works well and smells nice❤
03/27/2021
Harsha

India
Tea Tree Shampoo
Works well effective results
03/09/2021
Bhavik A.

India
Great product with great cust. Service
Loved the overall exp of CS team kudos to them ❤
03/06/2021
Diptimana S.

India
Tea Tree Shampoo
I love this product
12/27/2020
Karan K.

India
Thick and low foaming hair enrichment
This is nicer to use than most anti dandruff shampoos . It has a very light aroma compared to other WOW shampoos . It's good to see the thickness and quality of the product is maintained. This shampoo is low foaming and you need to leave it in a minute or two for it to work and enrich your hair follicles and hair. You can feel the difference after using it , more body and shine .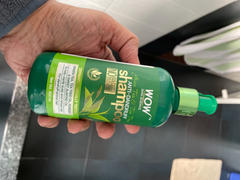 11/15/2020
Arun

India
10/19/2020
Harender L.

India
Excellent shampoo
Its very nice shampoo. Doing great on my hairs. Happy from the results Also its free from harmful chemicals
10/02/2020
GITASHREE H.

India
Excellent
Very good result
08/26/2020
Sahas K.

India
Best as always
Nice product and valuable pricing
08/16/2020
Saranya N.

India
good shampoo and conditioner
Very good
08/13/2020
DIVYA N.

India
Good shampoo! Give it a try
Quite satisfied
07/29/2020
Badri

India
Best shampoo
Result is very good worth buying
06/29/2020
Adarsh

India
Best Dandruff Shampoo
It is awesome
Hello Adarsh! Thanks a ton for your kind words :) We are always so delighted to see satisfied customers like you, to know you're happy with our product is a great feeling :) Hope to welcome you back soon. Have a lovely day ahead!
04/28/2021
Ruchika

India
Suberb
This is my 4th bottle and my hair just love this shampoo.My hair had never been so silky smooth and most important straight.my hair is wavy type and I have tried many products but this.people with extreme oily scalp should use thrice a week also they can feel less leather bit it's ok because this is natural product.