Hair Vanish Sensitive No Parabens and Mineral Oil - 100 ml
WOW Skin Science Hair Vanish Sensitive is a hair retardant that you can use after body hair removal to slow down the growth. This is meant especially for sensitive skin with coarse hair and areas like bikini line and underarms. Regular use leaves the skin feeling velvety soft to the touch. You have finer, sparser hair after each use. It is an all-natural product with bioactive ingredients including papain, Narcissus Tazetta Bulb extract, sunflower oil, jojoba oil, allantoin, liquorice extract, witch hazel and Himalayan spring water. These gently penetrate the skin to weaken the hair roots and keep the skin soft. With each application the regrowth gets later and later. No more trouble with frequent hair removal!
You Can Buy Our Hair Vanish Sensitive At Best Price From : Amazon, Flipkart, Nykaa, Purplle
---
HAIR RETARDANT THAT SLOWS BODY HAIR REGROWTH AND KEEPS SKIN SOFT

Weakens roots that slow down regrowth and thins out hair texture
---

It also offers an intense nourishing, soothing, toning and softening action that leaves your skin silky smooth.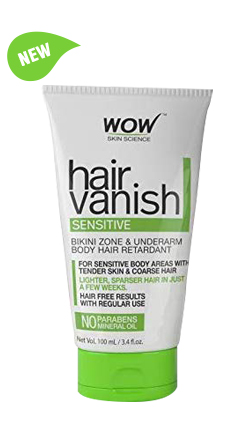 Not a hair remover but a retardant that works on hair-free pores.
---

Do not expect overnight results, use for 3 months regularly to see it.
---
FORMULATED TO RETARD REGROWTH OF BODY HAIR AND LEAVE SKIN WITH SMOOTH TEXTURE
Slows down hair growth

---
Its potent blend of bioactives papain and Narcissus Tazetta Bulb extract weaken the roots and retards regrowth.
Offers skin benefits

---
Helps nourish and tone skin; soften the epidermis for velvety smooth feel.
Completely safe

---
Safe to use on any body part including face. Contains no harmful parabens or mineral oils. It is vegan and cruelty free.
---
Key Ingredients
---
How to use
After hair removal, apply cream liberally to freshly cleansed skin. Massage into the skin until it is absorbed. For best results, repeat twice a day for 7 days after shaving, waxing, or threading.
---
Explore the entire range of Hair Vanish available on BuyWOW.
Shop Other WOW Skin Science Hair Vanish:
---
Manufacturing Information
Manufactured by : Kapco International Limited, Plot No 10-11, Sector 3, Parwanoo, Himachal Pradesh 173220, India
Country of Origin : India
Marketed By : Body Cupid Pvt Ltd. #51, IndiQube Penta, 5th Floor, Richmond Road, Bengaluru 560025, Karnataka - India.
*As our products are made with natural ingredients and made in small batches, there may be slight variations in their color and fragrance.
This site requires cookies in order to provide all of its functionality.