Keep your child's skin soft and hydrated post bath with WOW Skin Science Kids Plush and Plump Body Lotion, Orange. This body lotion has a blend of natural ingredients that aids in reducing moisture loss from skin and protects skin against UV rays. It also helps in protecting skin from sun damage. This body lotion can be used to restore skin's radiance. It is infused with orange peel oil, which is rich in antioxidants and vitamin C; helps to protect skin from sun damage and improve its radiance and texture. Aloe vera extract helps to restore lost hydration and forms a protective moisture barrier over skin. Shea butter and cocoa butter contain essential fatty acids and vitamin E that support skin's natural lipid balance and keep skin soft. Use this lotion to keep your child's skin bright, smooth and moisturized at all times. Suitable for all skin types.
WHY YOU WOULD LOVE THIS BODY LOTION

This body lotion is enriched with skin brightening natural actives that help to protect skin from damage.
---

It is made from natural ingredients which aids in moisturizing skin, prevent excessive dryness and deep hydration to skin.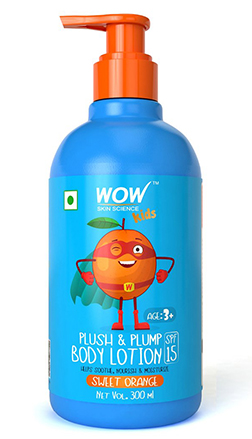 The natural actives in the body lotion deliver essential nutrients and vitamins to the skin that help to keep it totally nourished and healthy.
---
Contains no parabens, sulphate, color or silicones and helps to deliver maximum benefit.
---
KEY INGREDIENTS
---
HOW TO USE
After bath, pump a dollop of this body lotion in the palms. Rub them together and then spread it all over legs, arms and body on a slightly damp skin. Massage thoroughly starting from the legs and going upwards towards the body and arms. This allows the lotion to get absorbed into the skin without rubbing off.
---
Manufacturer Name : Kapco International Limited, Plot No 10-11, Sector 3, Parwanoo, Himachal Pradesh 173220, India
Country of Origin : India
Marketed By & Contact details : Body Cupid Pvt Ltd - 4th Floor, Prestige Dotcom, Field Marshal Cariappa Road, Srinivas Nagar, Shanthala Nagar, Ashok Nagar, Bengaluru – 560025, Karnataka, India.
Customer Care Details:
E-mail : support@buywow.in
Phone Number: +91-80-42896000
This product has a shelf life of 24 months from the date of manufacture. Please use within 24 months for best results.