WOW Skin Science Oudh 2 In 1 Shampoo & Body Wash gives you exotic bathing experience with its irresistible woody-musky fragrance that spells Arabian mystique. Oodles of lather add a luxurious note. With Sweet Almond and Argan Oils and Pro Vitamin B5 in its gentle formulation, it makes your skin and hair not just clean but feel lush and loved as well.
---
Formulated to deliver superlative bathing and shampooing experience

Leaves skin feeling smooth and soft. Scalp feels clean and smooth; hair feels softer and silkier.
---

Rich moisturizing formulation brings the glow to skin and gloss to hair.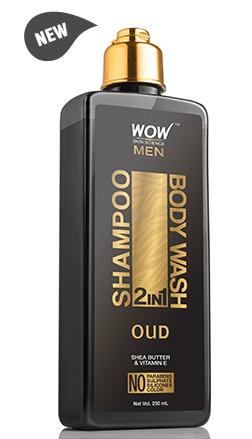 Essential fatty acid rich Sweet Almond and Argan Oils and antioxidant powered Pro Vitamin B5 give your skin, scalp and hair ample nourishment.
---

Has exotic fragrance with woody and musky notes that wow the mind.
---
Key Ingredients
---
How to use WOW Skin Science Oudh 2 In 1 Shampoo & Body Wash
FOR BATHING: Wet body. Pour a dollop of the product on wet loofah, washcloth or sponge. Lather all over savoring the amazing smell. Rinse off thoroughly and pat your skin dry.
FOR SHAMPOO:Wet hair and scalp. Massage in a small amount of the product. Rub gently with fingertips to generate lather. Wash off well with plain water.
---
Manufacturer Name : Kapco International Limited, Plot No 10-11, Sector 3, Parwanoo, Himachal Pradesh 173220, India
Country of Origin : India
Marketed By & Contact details : Body Cupid Pvt Ltd - 4th Floor, Prestige Dotcom, Field Marshal Cariappa Road, Srinivas Nagar, Shanthala Nagar, Ashok Nagar, Bengaluru – 560025, Karnataka, India.
Customer Care Details:
E-mail : support@buywow.in
Phone Number: +91-80-42896000
This product has a shelf life of 24 months from the date of manufacture. Please use within 24 months for best results.