PRODUCT DETAILS
WOW Skin Science Oudh 2 In 1 Shampoo & Body Wash gives you exotic bathing experience with its irresistible woody-musky fragrance that spells Arabian mystique. Oodles of lather add a luxurious note. With Sweet Almond and Argan Oils and Pro Vitamin B5 in its gentle formulation, it makes your skin and hair not just clean but feel lush and loved as well.
---
Formulated to deliver superlative bathing and shampooing experience

Leaves skin feeling smooth and soft. Scalp feels clean and smooth; hair feels softer and silkier.
---

Rich moisturizing formulation brings the glow to skin and gloss to hair.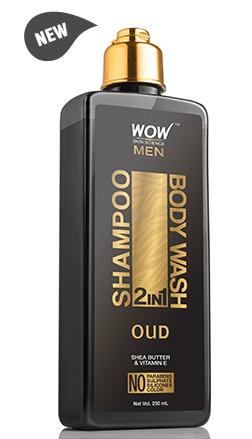 Essential fatty acid rich Sweet Almond and Argan Oils and antioxidant powered Pro Vitamin B5 give your skin, scalp and hair ample nourishment.
---

Has exotic fragrance with woody and musky notes that wow the mind.
---
Key Ingredients
---
How to use WOW Skin Science Oudh 2 In 1 Shampoo & Body Wash
FOR BATHING: Wet body. Pour a dollop of the product on wet loofah, washcloth or sponge. Lather all over savoring the amazing smell. Rinse off thoroughly and pat your skin dry.
FOR SHAMPOO:Wet hair and scalp. Massage in a small amount of the product. Rub gently with fingertips to generate lather. Wash off well with plain water.
---
[des]
Premium 2 in 1 shampoo & body wash with rich lather and awesome woody-musky fragrance. Gives a spa-like feel right in your own bathroom. Leaves you refreshed in body and mind.
Powered with Sweet Almond and Argan Oils and Pro-Vitamin B5 – all prized bioactive ingredients that are excellent for skin and hair health.
Gently cleanses dirt, grime and old sebum. Leaves skin amply moisturized and smooth. Makes hair softer, silkier and glossier.
Suits all skin and hair types. Dermatologically tested for your holistic wellness.
Contains no harmful sulphates, parabens, mineral oils, silicones, color or salt. Nothing but healthy skin and hair benefits in every drop.
Bioactive personal care that's 100% vegan, cruelty free and gluten free.
[/des]