PRODUCT DETAILS
WOW Skin Science Wild Aqua Foaming Body Wash has a fresh-aquatic fragrance that reminds you of cool ocean breeze and gently rushing waves. This body wash generates loads and loads of foam to make your bathing experience evoke memories of a seaside holiday. Premium bioactives such as pure Shea Butter and Vitamin E give your skin ample moisture and nourishment. Your skin feels so loved!
Formulated to deliver a bathing experience that's great for skin

Leaves skin feeling totally clean, smooth and soft.
---

Gives rich hydration to skin to remove every trace of dryness.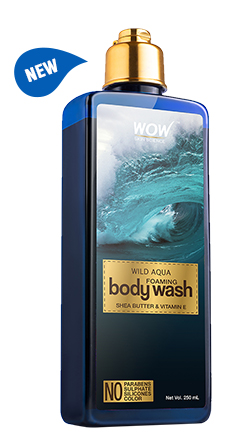 Essential fatty acid rich Shea Butter and antioxidant powered Vitamin E give your skin ample nourishment.
---

A rich moisturizing formulation that brings the glow to the skin.
---
Why your skin loves this body wash
No Harsh Ingredients

---
Totally without sulphates, parabens, silicones, mineral oils, salt or color.
Gives Rich Lather

---
Revel in luxurious lather served up just a bit of this body wash.
Relaxing fragrance

---
Fresh-aquatic fragrance for a sensual spa-like feel to your bath.
---
Key Ingredients
---
How to use WOW Skin Science Wild Aqua Foaming Body Wash
Wet your body thoroughly under shower or in the bath. Pour a dollop of shower gel on wet loofah, washcloth or sponge. Lather all over savoring the amazing smell. Rinse off thoroughly and pat your skin dry.
---
[des]
A lightweight, non-greasy hair oil for dry, brittle hair and weak roots.

Helps to protect strands from damage and restore healthy shine.
Delivers potent nutrients from the actives to the scalp and roots.
Supports in boosting circulation to the scalp and stimulate the roots.
[/des]