PRODUCT DETAILS
WOW Skin Science Aloe Vera Peel-Off Gel mask is an antioxidant-rich mask that draws out skin impurities and keeps it smooth and hydrated. Its effective formulation cleanses, tones, and removes the layer of dead skin cells on your skin. It is enriched with Aloe Vera extract that helps retain skin's natural moisture mantle. Pro Vitamin B5 and Hyaluronic Acid ensure that your skin is blemish-free and firm. Can be used twice a week for skin that is youthful and glowing.
BENEFITS OF WOW SKIN SCIENCE ALOE VERA PEEL-OFF GEL MASK

Assists in firming and toning skin
---

Helps reduce irritation in sensitive skin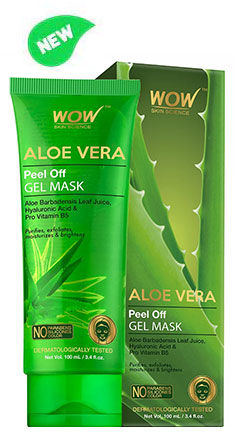 Gives clear, bright complexion
---

Purifying mask for youthful skin
---
FORMULATED TO PURIFY AND DETOX SKIN
Clears and purifies skin

---
Helps the skin by clearing dirt from the pores and minimizing the pore size. Balances the skin oils and hydration levels.
Refines complexion

---
Minimizes hyperpigmentation, dullness, acne, allergies, and fine lines. Gives the skin a dewy glow.
Suitable for all

---
Suits all skin types. Exfoliates and removes impurities. Contains no harmful parabens, sulphates or mineral oils.
---
HOW TO USE WOW Skin Science Aloe Vera Peel-Off Gel mask
Cleanse your face well. Take adequate amount of the gel mask and apply in a thin layer on your face and neck area. Avoid the area around the eyes and mouth. Let it dry for 15 minutes. Gently peel off the mask starting from the neck, jawline, moving upwards to cheeks and then forehead.
---
[des]
A lightweight, non-greasy hair oil for dry, brittle hair and weak roots.

Helps to protect strands from damage and restore healthy shine.
Delivers potent nutrients from the actives to the scalp and roots.
Supports in boosting circulation to the scalp and stimulate the roots.
[/des]