PRODUCT DETAILS
Protect Your Skin from UV Rays with AM2PM SPF50 Water Resistant Sunscreen Lotion
Our water resistant sunscreen offers effective protection from harmful UV rays. With a high SPF 50, this broad-spectrum sunscreen provides extended protection for your skin. Natural UV ray blockers, zinc oxide and titanium dioxide, protect your epidermis from damage, while liquorice extract helps prevent skin darkening. The formula is further enriched with nourishing ingredients such as Moroccan argan oil, aloe vera extract, and vitamin E, which help to prevent premature aging.


This sunscreen lotion is perfect for those who are active and enjoy outdoor activities, as it is water-resistant and can be used while swimming or sweating. Its non-greasy and quick-absorbing formula provides long-lasting UVA/UVB protection, while also healing sun damage, fading pigmentation, and increasing hydration. It also soothes sunburns and keeps your skin moisturized, making it a complete solution for maintaining healthy skin in the sun.
---
BROAD SPECTRUM SUNSCREEN WITH PHYSICAL BLOCKERS AND SKIN NOURISHERS

Provides complete protection against sun's damaging rays.
---

Nourishes skin and prevents darkening.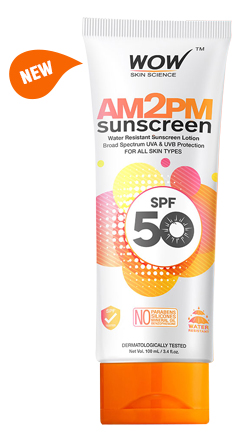 Strong physical UV ray blockers like Zinc oxide and titanium dioxide form a barrier.
---

Water-resistant formulation stays effective for a long time even while perspiring or swimming.
---
FORMULATED TO PROTECT SKIN FROM SUN DAMAGE AND PREVENT PREMATURE SKIN AGING
Long lasting protection

---
Non-greasy, quick-absorbing & water-resistant sunscreen lotion that gives longer-lasting broad-spectrum UVA/UVB protection for the skin.
Natural actives to nourish skin

---
Contains pure Moroccan Argan Oil, Aloe Vera Extract, Liquorice Extract, Vitamin E, Titanium Dioxide and Zinc Oxide.
Meant for all skin type

---
Suits all skin types, contains no harmful parabens, mineral oils, Propylene Glycol (PG) or Polyethylene Glycol (PEG).
---
Key Ingredients
---
HOW TO USE
Take two pumps of the cream and apply on your cleansed face and neck. Apply the product at least 20 minutes before going out in the sun for maximum benefit. You can use it on other exposed areas like hands, arms, and shoulders to prevent tanning.
---