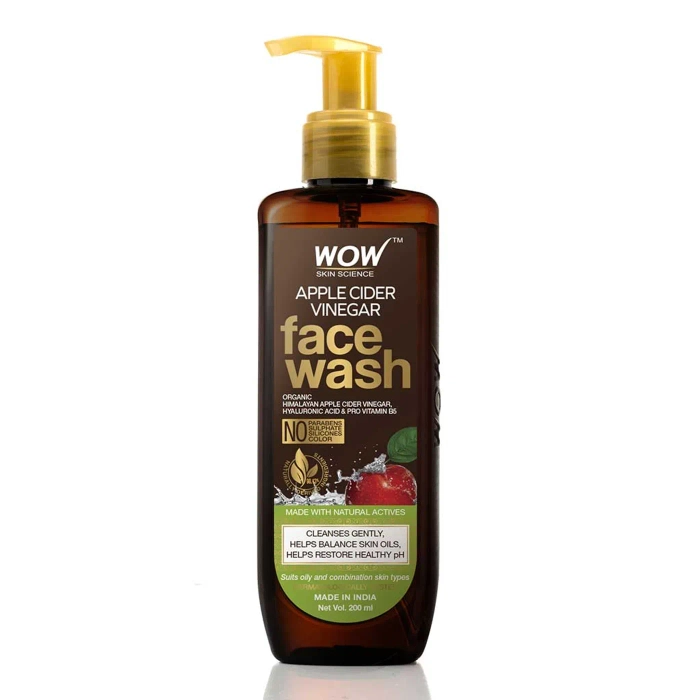 MRP ₹ (Incl. of all taxes). Usually delivered in 3-5 days
PRODUCT DESCRIPTION
If you're looking for a natural, gentle, and effective way to cleanse and rejuvenate your skin, look no further than the WOW Skin Science Apple Cider Vinegar Face Wash!
Our unique formula is made with organic, certified Himalayan apple cider vinegar, which is known for its powerful cleansing and toning properties. It effectively removes dirt, oil, and makeup, leaving your skin feeling clean, refreshed, and balanced.
But that's not all - apple cider vinegar is also rich in vitamins, minerals, and amino acids that nourish and revitalize the skin. It helps to tighten and tone the skin, reduce the appearance of pores, and control excess oil production.
In addition to apple cider vinegar, our face wash also contains aloe vera and glycerin to soothe and hydrate the skin. These natural ingredients work together to create a gentle and effective formula that is suitable for all skin types, including sensitive skin.
With its natural and gentle formula, the WOW Skin Science Apple Cider Vinegar Face Wash is a great addition to your daily skincare routine. It provides deep cleansing and nourishment for a healthy, radiant complexion. Plus, it's free from harsh chemicals like parabens, sulfates, and silicones, making it a safe and natural choice for your skin.
So why wait? Add the WOW Skin Science Apple Cider Vinegar Face Wash to your cart today and experience the power of natural skincare! With a generous 200 mL size, you'll have plenty of product to last you for months to come.
PRODUCT DETAILS
Use Before:
24 Months from the date of manufacture
Model name
Apple Cider Vinegar Face Wash
Step 1
Take the required amount
Step 2
Gently massage this foamy cleanser onto damp skin
Step 3
Rinse with cold water and pat dry.
Manufacturer Name: Kapco International Limited, Plot No 10-11, Sector 3, Parwanoo, Himachal Pradesh 173220, India
Marketed By & Contact details: Body Cupid Pvt Ltd - 4th Floor, Prestige Dotcom, Field Marshal Cariappa Road, Srinivas Nagar, Shanthala Nagar, Ashok Nagar, Bengaluru - 560025, Karnataka, India.
Customer Care Details:
E-mail:
support@buywow.in
Phone number:
+91-80-42896000