PRODUCT DETAILS
Improves Moisture Levels, and Fights Free Radicals with Our French Lavender and Chamomile Body Wash
Lavender body wash is the ultimate in skincare and indulgence. This luxurious body wash will pamper your skin with its sweet floral fragrance of lavender and chamomile flowers. Inspired by French skincare rituals, the lavender body wash will leave you feeling relaxed and refreshed after every bath. Enriched with skin-loving ingredients such as lavender essential oil, chamomile essential oil, shea butter, and vitamin E, the lavender body wash is gentle yet effective in cleansing and moisturizing your skin. Its rich, moisturizing formulation creates a creamy lather that will envelop your skin, leaving it feeling clean, smooth, and soft.

Lavender essential oil, steam distilled from lavender flowers, is naturally soothing and antimicrobial. Chamomile essential oil, also a steam distilled from chamomile flowers, is a powerful anti-inflammatory and anti-tanning agent. Shea butter is rich in healthy fatty acids and vitamin A, restoring skin elasticity and reducing inflammation. Vitamin E softens skin, fades scars, improves moisture levels, and fights free radicals. Our lavender body wash is completely free of harmful chemicals such as sulfates, parabens, silicones, mineral oils, salt, or color, making it safe and gentle for even the most sensitive skin. Experience the epitome of skincare and indulgence with our lavender body wash.
Formulated to deliver a bathing experience that's great for skin

Leaves skin feeling totally clean, smooth and soft.
---

keeps skin amply hydrated for smoother, softer feel.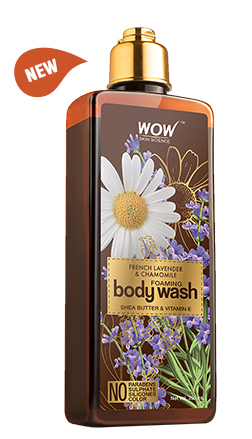 Has Lavender Essential Oil, Chamomile Essential Oil, Shea Butter and Vitamin E give your skin ample care and nourishment.
---

The rich moisturizing formulation that brings the glow to the skin.
---
Why your skin loves this body wash
No Harsh Ingredients

---
Totally without sulphates, parabens, silicones, mineral oils, salt or color.
Gives Rich Lather

---
Revel in luxurious lather served up by just a bit of this body wash.
Relaxing fragrance

---
The sweet floral fragrance of lavender and chamomile flowers for a spa-like feel to your bath.
---
Key Ingredients
---
How to use WOW Skin Science French Lavender & Chamomile Foaming Body Wash
Wet your body thoroughly under shower or in bath. Pour a dollop of shower gel on wet loofah, washcloth or sponge. Lather all over savoring the amazing smell. Rinse off thoroughly and pat your skin dry.
---