PRODUCT DETAILS
Help tone and firm up sagging cheeks, jaw, and neck with WOW Skin Science Lift & Firm Aloe Vera Gel. It is a hydrating and firming gel with aloe vera extract, anti-wrinkle peptide Matrixyl Synthe 6 and hyaluronic acid that helps to support skin's collagen structure and sustain the moisture barrier. The gel also contains jojoba oil rich in vitamins and antioxidants and vitamins B and E that give your skin a supple, soft, nourished texture. The gel helps to provide deep hydration to the skin and improve skin texture.
WOW Skin Science Lift & Firm Aloe Vera Gel

Helps to deep cleanse the skin and tone the skin.
---

It helps maintain the hydration levels in dry skin.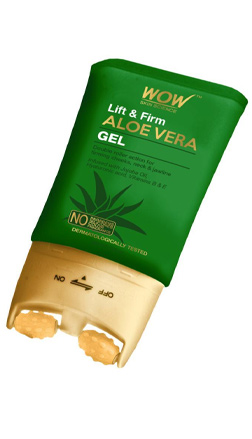 Supports in diminishing fine lines and lifting sagging skin.
---

The double rollers help to maintain skin firmness.
---
WHY YOU WOULD LOVE THIS GEL
Helps to firm up sagging skin

---
By delivering deep hydration, and benefits of skin-building peptide the gel helps to improve skin's collagen structure and add firmness to sagging skin.
Helps reduce irritation in sensitive skin

---
Aloe Vera extract helps repair dry, parched skin, and gives anti-inflammatory soothing relief.
Gives clear, bright complexion

---
Pro vitamin B5 helps reduce hyperpigmentation and cucumber tones the skin and reduces puffiness for even complexion and smooth skin.
---
Key Ingredients
---
HOW TO USE
Cleanse your face. Squeeze out the gel and apply on your cheeks, jawline, and neck areas. Massage gently with the rollers. Roll from the centre of your face towards the hairline for cheeks; from jaw upwards to your ears; for neck roll from the base upwards to your jawline. Massage for a minute only to help the gel sink into the skin and give you a toned, firm look.
---
[des]
Powered by Alteromonas Ferment Extract, Liquorice Extract & Vitamin B3.
It helps minimize irritations, ageing skin signs, pigmentation and tanning.
Advanced all-in-one sunscreen lotion for protecting the skin from pollution, smog & sun damage.
[/des]