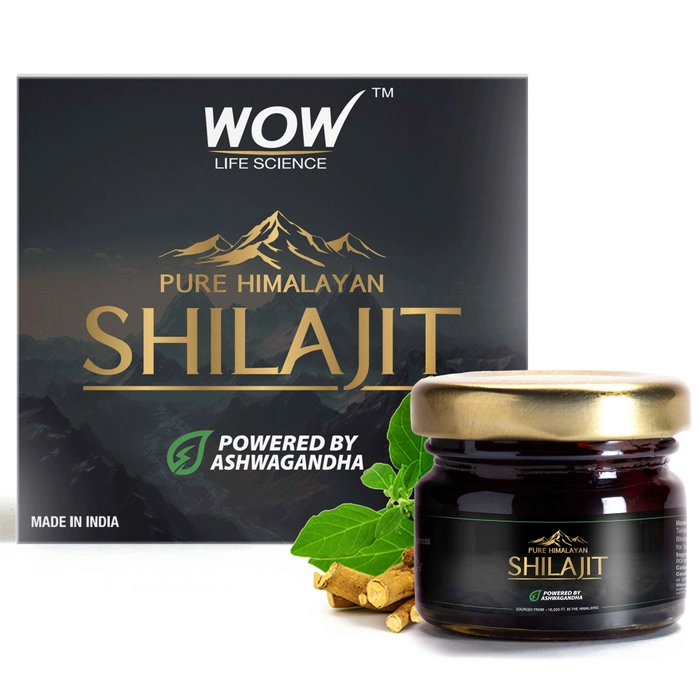 MRP ₹ (Incl. of all taxes). Usually delivered in 3-5 days
PRODUCT DESCRIPTION
WOW Life Science Pure Himalayan Shilajit – (20g) is powered by Ashwagandha known as a powerhouse of antioxidant and anti-inflammatory properties. Shilajit is found in the peaks of the Himalayas. We extract, purify and filter according to the classical ayurvedic texts to get the purest and most potent Shilajit form – Resin and blend it with the finest quality Ashwagandha that helps boost energy levels, build stamina & enhance vigour. It is easy to Consume and Digest which makes it an integral part of a healthy lifestyle. Shilajit - 'Conqueror of weakness', is a natural substance found mainly in the Himalayas, formed for centuries by the gradual decomposition of certain plants by the action of microorganisms. Ashwagandha is a pure herb that provides a plethora of health benefits. Pure shilajit and Ashwagandha are loaded with antioxidant and anti-inflammatory properties. They work as a miracle when combined. They may help reduce cholesterol levels and protect against heart disease. Also, known for its stress-relieving properties and helps build immunity. WOW life science Pure Himalayan Shilajit powdered by Ashwagandha is a paradise for sustained vitality.
PRODUCT DETAILS
Use Before:
24 Months from the date of manufacture
Model name
Pure Himalayan Shilajit Powered By Ashwagandha
Step 1
Take pea-sized qty (200-250mg) with the help of the spoon provided or as directed by your physician
Step 2
Blend it in 100ml of warm water/milk
Step 3
Consume daily on an empty stomach for three months to get the best results
Manufacturer Name: *Depending on batch Number - Amaara Ayurveda Plot No. 64, Sector-6, IMT Manesar, Gurgaon, Haryana - 122050, India ; Hill Route Plot No. 359, Sector-7, IMT Manesar, Gurgaon, Haryana-122050, India ;
Marketed By & Contact details: Body Cupid Pvt Ltd - 4th Floor, Prestige Dotcom, Field Marshal Cariappa Road, Srinivas Nagar, Shanthala Nagar, Ashok Nagar, Bengaluru - 560025, Karnataka, India.
Customer Care Details:
E-mail:
support@buywow.in
Phone number:
+91-80-42896000