SAMPLER: Onion Black Seed Hair Oil + Ubtan Face & Body Scrub + Moringa Body Butter + Apple Cider Vinegar Hair Mask - Net Vol - 105 ml
SAMPLER: Onion Black Seed Hair Oil + Ubtan Face & Body Scrub + Moringa Body Butter + Apple Cider Vinegar Hair Mask - Net Vol - 105 ml
|
Inclusive of all taxes
Earn Pro Point Worth
₹4.95
Launch
WOW Skin Science Onion Hair Oil is fast absorbing, non-sticky, non-greasy hair oil for silkier & stronger hair. It is free of harmful chemicals and toxins such as Silicones, Parabens, Mineral Oil, Dyes & Synthetic Fragrance. This Onion Hair Oil is suitable for all hair types.

Reveal beautiful skin, bright and radiant complexion with the WOW Skin Science Ubtan Face & Body Scrub. This scrub is made from traditional natural ingredients known for their exfoliating and skin rejuvenating properties. The ubtan scrub assists in removing dead skin, deep-seated dirt and tan, help to moisturize and soften skin leaving your skin velvety smooth and glowing.

Rejuvenate your dull, aging, lifeless skin with WOW Skin Science Moringa Body Butter. It delivers the goodness of moringa oil, rich in vitamins A, C, E and fatty acids, to help nourish skin, and improve the appearance and skin radiance.

Give your hair clarifying and balancing care with WOW Skin Science Apple Cider Vinegar Hair Mask. This hair mask has a blend of natural ingredients that aids in enhancing your hair texture, shine and managing dandruff. It also helps to fortify damaged hair shafts and reduce greasiness from the strands. Suitable for all hair types, this hair mask can be used to hydrate your hair and restore the natural pH balance. It helps to restore hair's natural elasticity and flatten rough cuticles.


Customer Reviews
Write a Review
Ask a Question
02/15/2021
Meenakshi g.

India
02/13/2021
Zohaib K.

India
Excellent array of products
The sample products are really good and as usual, high quality stuff. Every time I use Wow products, I just seem to get impressed more and more. From the packaging, to content, quality, etc — it is obvious that you guys put good amount of effort and I just can't recommend your products more! Looking forward to consume more useful products and writing about them. Thanks and Regards, Zohaib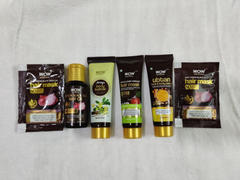 01/23/2021
Manisha S.

India
Best product
Very good and loved ur product
01/23/2021
Sahana

India
01/21/2021
Manali T.

India
Good quality products
The products are very good and definitely would back them again
01/20/2021
Anil A.

India
01/16/2021
Ajit K.

India
Three star
Nice and it's good to use especially for personal care
01/12/2021
Bhanu P.

India
01/12/2021
Heena B.

India
01/04/2021
Ritu P.

India
01/03/2021
Vanshika

India
01/02/2021
Shivam B.

India
Worth a buy
All the products r really good.. From onion shampoo n conditioner n den hair mask n scrub really good.. U can feel d difference in a week...
01/02/2021
Komal R.

India
good
it was good . i like all the sampler except body butter i don't like it's smell.
01/02/2021
Kushal R.

India
Best products
It's superhit and I just love these product and it's natural and my opinion is that you should buy these product.
12/30/2020
Udit R.

India
Product is awesome
Good product for skin care and also good for hair
12/30/2020
varsha s.

India
12/29/2020
Rutuja M.

India
Excellent
It's was excellent I would love to use all these products .
12/27/2020
Tejal P.

India
KK
01/16/2021
Kalidas K.

India
Excellent Products
My experince with wow was good. The products that i use that is really Awesome.