PRODUCT DETAILS
WOW Skin Science Valencia Orange and Ginger Foaming Body Wash smells heavenly with its fruity-spicy fragrance notes that add a dash of zing and a note of spice to your daily bathing routine. This formula contains Shea Butter, Ginger and Orange Essential Oils and Vitamin E, all prized bioactives that make your skin soft, silken and a joy to touch. Every swirl of foam lathers profusely to give you a delightful bath.
---
Formulated to deliver a bathing experience that's great for skin

Leaves skin feeling totally clean, smooth and soft.
---

Give rich hydration to skin to remove every trace of dryness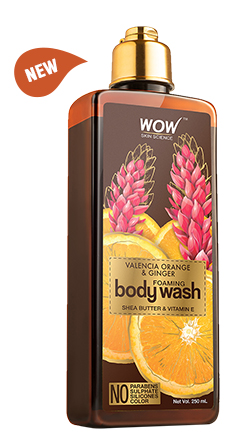 Essential fatty acid rich Shea Butter and antioxidant powered Vitamin E give your skin ample nourishment. Orange & Ginger Essential Oils detoxify skin.
---

The rich moisturizing formulation that brings the glow to the skin.
---
Why your skin loves this body wash
No Harsh Ingredients

---
Totally without sulphates, parabens, silicones, mineral oils, salt or color.
Gives Rich Lather

---
Revel in luxurious lather served up by just a bit of this body wash.
Relaxing fragrance

---
Fruity-spicy fragrance for a spa-like feel to your bath.
---
Key Ingredients
---
How to use WOW Skin Science Valencia Orange & Ginger Foaming Body Wash
Wet your body thoroughly under shower or in bath. Pour a dollop of shower gel on wet loofah, washcloth or sponge. Lather all over savoring the amazing smell. Rinse off thoroughly and pat your skin dry.
---
[des]
Premium foaming body wash with rich lather and soothing fruity-spicy fragrance. Gives luxurious and spa-like feel right in your own bathroom. Leaves you refreshed in body and mind.
Powered with Shea Butter, Orange & Ginger Essential Oils & Vitamin E– all prized bioactives known and trusted for enriching skincare.
Leaves skin amply moisturized and deeply nourished. Plus, your skin feels so lushly and sensually fragrant too.
Suits all skin types. Dermatologically tested for your holistic wellness.
Contains no harmful sulphates, parabens, mineral oils, silicones, color or salt. Nothing but healthy skin benefits in every drop.
Bioactive Skincare that's 100% vegan, cruelty free and gluten free.
[/des]