Raw Apple Cider Vinegar 500 mg - 60 Vegetarian Capsules
Raw Apple Cider Vinegar 500 mg - 60 Vegetarian Capsules
|
Inclusive of all taxes
Earn Pro Point Worth
₹29.95
Launch
Wow Life Science Apple Cider Vinegar Supplement gives you all the health benefits of Apple Cider Vinegar in a capsule form without the acidic aftertaste. Apple cider vinegar has restorative effect on your body, helps control blood sugar, and lower cholesterol levels. It has shown good results in weight loss management. Each Apple Cider Vinegar Supplement capsule has pure apple cider vinegar powder made from cider from Himalayan apples.
---
FORMULATED TO SUPPORT WEIGHT LOSS AND MANAGE HEALTH

Helps decrease fat production
---

Helps Boost Digestion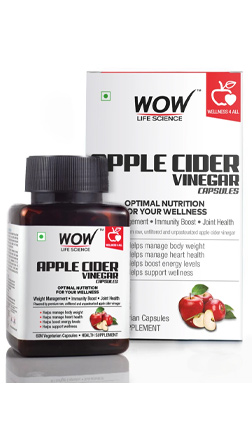 Aids in manage cholesterol
---

Healthy for the heart
---
APPLE CIDER VINEGAR TO FORTIFY YOUR HEALTH & WELL BEING

Offers holistic health benefits by improving immunity and overall wellness.

Regular use may lead to weight loss.

Contains nutritional elements like live enzymes and essential minerals.

It is vegetarian, gluten free and dairy-free.
---
Key Ingredients
---
YOU CAN BUY OUR RAW APPLE CIDER VINEGAR CAPSULES AT BEST PRICE FROM
---
Shop Apple Cider Vinegar Range:
Customer Reviews
Write a Review
Ask a Question
02/22/2021
Ancy A.

India
Amazing products
Cost effective. Good delivery and customer service. Products are so productive and will try on again.
01/24/2021
Vinayak B.

India
Highly recommended... Nice product
06/26/2020
Gagan

India
Best Product According To Your Pocket
I'm an international certified fitness instructor and sports Nutritionist so I always recommend those things which I personally used and experienced From last few months, I have started using @wowlifescienceindia Testoboost and @wowlifescienceindia Apple Cider Vinegar capsules. The results I have experienced are incredible. The major benefits which I really appreciate from my experience with these products are that there is increase in my workout stamina. It has helped me in muscle building by gaining quality muscle mass. It has reduced my recovery time and helped me with my performance. Not only this, it has increased my overall wellness and has relived me from joint pain during workout. @wowlifescienceindia products are 100% natural, vegetarian and gluten free. If you really want to gain some quality mass and increase your overall wellness then I personally recommend you to use @wowlifescienceindia Testoboost and Apple Cider Vinegar. So just keep this good work
Hey Gagan! We are incredibly grateful, that you took the time to review our product. We are a genuinely customer-centric, long term oriented company where customer satisfaction is our top priority and we are committed to our customers. To see you satisfied and happy with our product means a lot to us. We always want to make sure our customers get the best and to see customers acknowledge this fills us with joy. Thank you and we are always happy to serve you. Have a beautiful day ahead!
Nice wow
Effective product.
Nice product just like apple cider vinegar but easy to take it as capsule
Nice product just like apple cider vinegar but easy to take it as capsule
Nyc accha hai
Nyc accha hai
Five Stars
Excellent product full body de toxify
Five Stars
Very nice(sasiselvam)
Good one
Very nice supplement for digestion and acidity related issues. A nice substitute for the liquid. The effect is the same as the liquid one, but the plus point is you don't need to endure the strong taste.
Good product
Good product
Too Good...
I m started apple cider vinegar in liquid form but due to bad taste shifted to Wow Raw Apple Cider Vinegar Capsules. Now can say "WOW". great. taking ACV 1 cap two times daily...amazing result for Pre-diabetes symptom, Weight management, Skin Problem...apart from this it's magic in gastritis. 1000% recommended.... Waiting for vitamin K2 (MK7 format)
Awesome .
Better than drinking unpleasent smelling apple cider vinegar.
Five Stars
Good product ... helps u in being fit...!! Really helped me .