WOW Life Science Liv Uno Supplement is a dietary essential if you want to improve your liver health. The supplement contains a blend of 5 potent extracts known in Western traditional medicine and in Ayurveda to benefit your liver. These actives from turmeric, Indian gooseberry, herb bhuamlaki, silymarin from milk thistle, and alfalfa help strengthen your immune system and promote better health. It may also improve your skin's texture and appearance.
Formulated to Improve Health

Helps Keep Liver Health in Check
---

Helps Detox the Body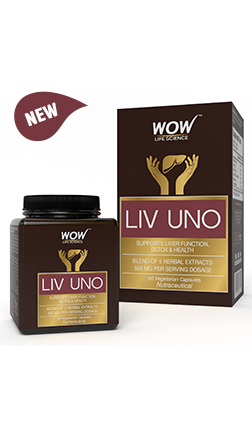 Helps Replenish Liver Supportive Nutrients
---

Has Positive Impact on Skin Health
---
Liv Uno a Blend of Herbal Extracts to Promote Liver Health

Regular use helps in digestion and boosting immunity.

It is natural, vegetarian, gluten-free.

The supplement acts as a powerful antioxidant to improve overall health.

Each capsule contains 450mg of blend of potent extracts from herbs.
Key Ingredients

Phyllanthus Amarus (Bhuamlaki) - An Ayurvedic herb used in formulations to act as liver protector.

Silymarin - Powerful antioxidant derived from milk thistle plant is known as a potent free radical scavenger that supports liver health. It prevents oxidative stress on the body which has wellness benefits as well.

Curcumin - Derived from turmeric it has 95% curcuminoids which is a phytonutrient that has antiseptic properties.

Indian Gooseberry (Amla) - It is a rich source of vitamin C which is a well-known antioxidant that protects the body and prevents cellular degeneration.
Manufacturer Name : M/S. Sansha Care, No.2206/16, Ground Floor, 12th main Road, 'A' Block, Subramanya Nagar, 2nd Stage, Rajajinagar, Bangalore 560010 Karnataka
Country of Origin : India
Marketed By & Contact details : Body Cupid Pvt Ltd - 4th Floor, Prestige Dotcom, Field Marshal Cariappa Road, Srinivas Nagar, Shanthala Nagar, Ashok Nagar, Bengaluru – 560025, Karnataka, India.
Customer Care Details:
E-mail : support@buywow.in
Phone Number: +91-80-42896000
This product has a shelf life of 24 months from the date of manufacture. Please use within 24 months for best results.