Turmeric 200 mg - 60 Vegetarian Capsules
|
Inclusive of all taxes
WOW Life Science Turmeric Capsules provide a healthy blend of Turmeric Concentrate with high Curcuminoid content, pure Turmeric (Curcuma longa) Powder and Piperine (derived from black pepper). Helps boost immunity, improve skin health and provide anti-aging support. Regular consumption may improve bone and joint health, boost immunity and enhance skin.
---
MULTIPLE WELLNESS BENEFITS BACKED BY TRADITION & SCIENCE

Supports Stronger Immunity
---

Works as an Antioxidant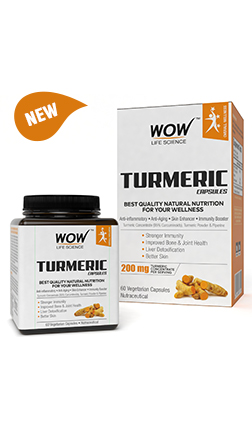 Helps Improve Bone & Joint Health
---

Supports Improved Skin Health
---
Supports Bone, Skin, Immunity & Liver Health

Every capsule 200 mg Turmeric Concentrate, 200 mg Turmeric powder & 5 mg Piperine.

Contains a small amount of piperine for enhanced absorption of curcuminoids.

Turmeric (Curcuma longa) is a traditional and clinical Indian herb rhizome rich in curcuminoids.

Pure Turmeric Powder and Piperine.
---
Key Ingredients
---
YOU CAN BUY OUR TURMERIC CAPSULES AT BEST PRICE FROM
---
Shop Other Related Products:
Customer Reviews
Write a Review
Ask a Question
04/30/2021
Madhu

India
Good
Turmeric is extremely good. But taking it as a tablet makes it even easier as I don't like the powder taste
Hey Madhu! We truly appreciate your kind words, support which you have shown to us! We are committed to you! The way you do! Cheers! -sh
02/23/2021
Th L.

India
Xcellent!
This is a good product and I have been using on and off for its excellent result on my wellbeing.
04/28/2020
Yash T.

India
Alternative
But instead you can also drink turmeric milk which would be a natural way to consume turmeric!
Worth the buy!
Worth the buy!
Good product
Skin problems reduce with regular use.
Good
Good product but not a very effective product
wow quality
it increases hunger as it purifies our liver and boosts energy in brain