Vitamin K2 100mcg - 60 Vegetarian Capsules
Vitamin K2 100mcg - 60 Vegetarian Capsules
|
Inclusive of all taxes
Earn Pro Point Worth
₹24.95
Launch
WOW Life Science Vitamin K2 Supplement provides an optimized dosage of Vitamin K2 that assists in improving heart health and bone health. K2 is important for the body because it helps in blood clotting. It is a fat-soluble vitamin that is highly active and is easily absorbed by the body when you have it with food containing healthy fat. Daily intake ensures healthy heart and bones.
---
FORMULATED TO SUPPORT BONE HEALTH AND KEEP HEART STRONG

Helps in delivering calcium to right body parts
---

Helps prevent excessive blood loss by enabling clotting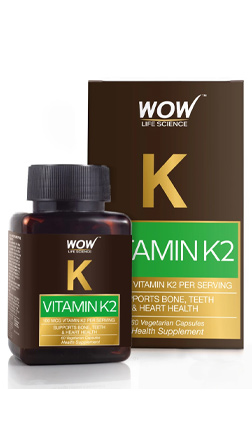 Supports Bone and Joint Health
---

Supports Heart Health
---
VITAMIN K2 ESSENTIAL FOR HEALTHY HEART AND BONES

WOW Life Science Vitamin K2 Supplement contains 60 capsules per pack.

Each capsule delivers 55mcg Vitamin K2, a more bioavailable form of the essential K vitamin.

Vitamin K2 helps protect the bone and strengthens it.

Supports heart health and cleanses arteries.
---
Key Ingredients
---
Customer Reviews
Write a Review
Ask a Question
I recommend this product
Good Quality
it causes irregular heart beat.....take it by mixing with vitamin d3
I recommend this product
Vitamin K2
Good for varicose veins.
I recommend this product
Thanks
Good but bit costly, thanks for the Timely delivery and fresh product. Already started taking the capsules. Thanks for the quick delivery once again.
I recommend this product
Take it with vitamin D3 5000iu
lowers your calcium from yur Arteries and send them back to the bones
I recommend this product
Easy to swallow and good choice for your dietary supplements
Good supplement
I recommend this product
Vitamin K2+ vitamin D= Strong bones
Vitamin K2 Mk7 is quite different from the usual form of vitamin K (K1) that we obtain from leafy green vegetables like Spinach. It has some amazing properties. The best property of vitamin K2 is its ability to send calcium to the right place ie the bones. Let me explain. As we all know calcium needs vitamin d to be absorbed. As most people rarely go out in the sun, vitamin d deficiency has reached epidemic proportions in India with almost 80% of the population deficient. To reverse this trend more and more doctors are recommending vitamin d supplements. However, there is a catch. Vitamin d supplements increase absorption of calcium but in large doses they can cause the absorbed calcium to be deposited in your blood vessels and tissues. This eventually can lead to heart disease later on. Taking a vitamin K2 supplement would help the calcium reach the bones and prevent it from calcifying your blood vessels. Vitamin K2 is a natural partner of vitamin d. Many reports also shows that vitamin K2 plays a important role in preventing prostate cancer. Moreover, the Japanese, who get large amount of K2 by consuming natto, are extremely long lived as anyone can attest. Vitamin K2 might play a role in this. Finally, remember to take vitamin K2 and vitamin d together with a fatty meal for proper absorption. Also remember to eat magnesium rich foods like nuts and spinach to enhance bone health.
08/05/2019
rajeshkumarkar
I recommend this product
Good product
Good product
I recommend this product
Good Product
happy with the results
I recommend this product
Deserves 5 star.
Good supplement for bone and heart health.
I recommend this product
Low expens... Good
At this price compny give awesome quality at comparison to local pharmacy...
I recommend this product
Nice
Good product with valuable price thnx wow u r amazing
I recommend this product
very useful product
liked it very well, and it is a great help to meee and my family
I recommend this product
Good product
Good product
I recommend this product
Vitamin K
Good one for joint pains
I recommend this product
Doesn't contain talc and Wow brand is the real deal
Always a fan of wow products
I recommend this product
its essential go for it
its essential go for it
I recommend this product
Wonderful product
The product is fantastic as well as cost effective and gives daily requirements of Vitamin K2,our whole family use to take it with Vitamin d3
I recommend this product
Beneficial
Very beneficial product