PRODUCT DETAILS
WOW Skin Science Aloe Vera Sleeping Pack is an antioxidant-rich mask that hydrates and refines your skin as you sleep for a glowing skin the next morning. Its non-greasy and non-sticky formulation spreads evenly and gets absorbed quickly into the skin. Enriched with Aloe Vera Juice, Hyaluronic Acid, Green Tea Extract and Witch Hazel Extract, it gently and slowly releases nutrients and moisture into the skin through the night in.
BENEFITS OF WOW SKIN SCIENCE ALOE VERA SLEEPING PACK

Helps rejuvenate skin
---

Helps reduce irritation in sensitive skin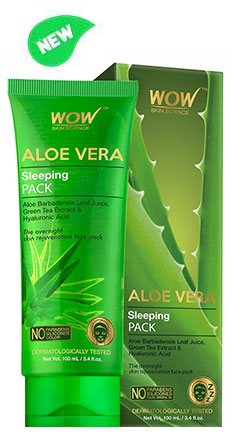 Helps brighten complexion
---

Helps purify skin
---
FORMULATED TO PURIFY AND DETOX SKIN
Aloe Vera restores hydration

---
Water rich active hydrates skin and moisturizes it. Protects skin from irritation and soothes inflamed skin.
Refines complexion

---
Witch Hazel helps minimize pores, control excess oil and gives skin a matte, even-toned, velvety look.
Suitable for all

---
Suits all skin types. Helps revive dull, aging skin. Contains no harmful parabens, sulphates or mineral oils.
---
HOW TO USE WOW Skin Science Aloe Vera Sleeping Pack
Cleanse your face well. Take adequate amount of the gel mask and apply in a thin layer on your face and neck area. Avoid the area around the eyes and mouth. Let it dry get absorbed into your skin. Keep it on overnight. Wash it off in the morning by splashing water on your face.
---
[des]
A lightweight, non-greasy hair oil for dry, brittle hair and weak roots.

Helps to protect strands from damage and restore healthy shine.
Delivers potent nutrients from the actives to the scalp and roots.
Supports in boosting circulation to the scalp and stimulate the roots.
[/des]