Charcoal 2-In-1 Shampoo + Body Wash - No Parabens, Sulphate, Silicones & Color - 250 ml
WOW Skin Science Charcoal 2 In 1 Shampoo & Body Wash has the clarifying goodness of activated bamboo charcoal that traps, binds and washes away dirt, grime and impurities from skin and hair. It also has Argan Oil and Pro-Vitamin B5 to nourish and protect your skin and hair. Its smoky-earthy smell feels really serene.
You Can Buy Our Charcoal 2-In-1 Shampoo + Body Wash At Best Price From : Amazon, Flipkart, Nykaa, Purplle
---
Formulated to deliver superlative bathing and shampooing experience

Leaves skin feeling smooth and soft. Scalp feels clean and smooth; hair feels softer and silkier.
---

Rich moisturizing formulation brings a glow to skin and gloss to hair.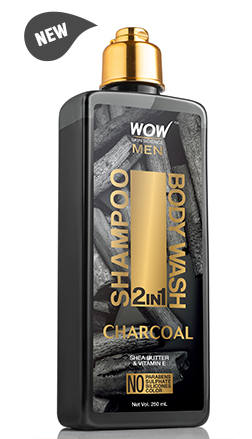 Vitamin E rich Argan Oil and antioxidant powered Pro Vitamin B5 give skin, scalp and hair ample nourishment.
---

Has serene fragrance with smoky-earthy notes that soothe the mind.
---
Key Ingredients
---
How to use WOW Skin Science Charcoal 2 In 1 Shampoo & Body Wash
FOR BATHING: Wet body. Pour a dollop of the product on wet loofah, washcloth or sponge. Lather all over savoring the amazing smell. Rinse off thoroughly and pat your skin dry.
FOR SHAMPOO:Wet hair and scalp. Massage in a small amount of the product. Rub gently with fingertips to generate lather. Wash off well with plain water.
---
Explore the entire range of Shampoo available on BuyWOW. You can browse through the complete list of Activated Charcoal Products.
Shop Other WOW Skin Science Shampoo:
Shop Activated Charcoal Range:
[des]
A lightweight, non-greasy hair oil for dry, brittle hair and weak roots.

Helps to protect strands from damage and restore healthy shine.
Delivers potent nutrients from the actives to the scalp and roots.
Supports in boosting circulation to the scalp and stimulate the roots.
[/des]