WOW Skin Science Freedom Premium Menstrual Cup & Wash have been created to meet your period needs with hygiene, comfort and sustainability. WOW Skin Science Freedom Premium Menstrual Cup is a soft, flexible and bell-shaped cup made of 100% medical grade, hypoallergenic silicone. Insertable like a tampon, it collects (doesn't abosrb) blood that can be emptied after every few hours and re-inserted for further use, or washed and stored till needed again. WOW Skin Science Cleansing Foaming Freedom Wash is formulated with lactic acid to help keep the vaginal pH at a healthy 3.5, and tea tree essential oil for keeping away odour causing bacteria.
---
PREMIUM MENSTRUAL CUP & CLEANSING FOAMING WASH FOR INTIMATE FEMININE MENSTRUAL HYGIENE

Freedom Cup for hassle-free post-childbirth menstrual blood collection and disposal; Freedom Wash for intimate cleansing and hygiene.
---

Inserts easily to collect menstrual blood that can later be emptied, washed and reinserted/ stored for later use.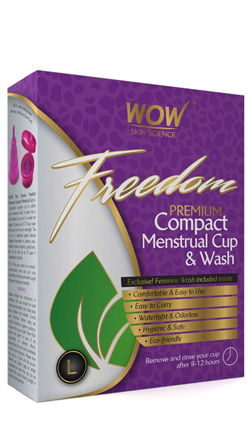 Use it again and again for years. No mess, no dumping wrapped pads in garbage bins. Inserted properly, you won't even feel it inside you.
---

Contains lactic acid and tea tree oil for gentle healthy care.
---
WHY THIS WONDERFUL PRODUCT IS A MUST-USE FOR WOMEN
Made exclusively for feminine hygiene

---
Formulated specifically for intimate feminine menstrual hygiene needs.
Usable for up to 12 hours

---
WOW Freedom Cup can collect blood for 12 consecutive hours without leakage, wetness or odours.
Modern lifestyle friendly for on-the-go women

---
Worry-free period management. You can dance, swim, jog, bike, work, or just relax and sleep overnight without fearing leakage or discomfort.
---
How To Use The Menstrual Cup

Lather Cleansing Foaming Freedom Wash on your palm

Apply to well-rinsed intimate area and cleanse.

Rinse with plenty of water, and pat dry

Sanitize menstrual cup by boiling in water for 3-5 minutes

Fold and insert into the vagina

Twist the base to ensure the cup is suctioned properly

Wear for up to 12 hours

To remove, pinch the base and pull downwards, emptying the blood into your toilet or shower

Wash with soap and water before inserting

After your cycle is complete, sanitize the menstrual cup by boiling in water for 3-5 minutes
---
Manufacturer Name : Kapco International Limited, Plot No 10-11, Sector 3, Parwanoo, Himachal Pradesh 173220, India
Country of Origin : India
Marketed By & Contact details : 4th Floor, Prestige Dotcom, Field Marshal Cariappa Road, Srinivas Nagar, Shanthala Nagar, Ashok Nagar, Bengaluru – 560025, Karnataka, India.
Customer Care Details:
E-mail : support@buywow.in
Phone Number: +91-80-42896000