PRODUCT DETAILS
If you properly wash your hands with a soap or handwash for 20 seconds, the risk of respiratory infections is reduced by 21%. So, keep your hands clean, soft, and hygienic with WOW Skin Science Fresh Aqua Hydrating 20 Seconds Handwash. This sulphate-free handwash is made with natural ingredients like pro-vitamin B5, citric acid and vitamin E. Pro-vitamin B5 that helps to repair and refreshes skin and protects it from damage caused by free radicals. Citric acid, which is a natural alpha hydroxy acid helps to mildly exfoliate skin that support the skin renewal process. It helps to maintain skin's natural pH balance and give the skin a clean feel. Vitamin E is an essential nutrient with antioxidant properties that keeps skin moisturized and protected from damage. It helps to nourish and moisturize skin.
WHY YOU SHOULD USE THIS HANDWASH
Helps to clean and sanitize hands

This can be used for 20 seconds to keep hands fresh and germ-free.
---
Helps to restore skin's natural moisture barrier and soften skin

Contains pro-vitamin B5 and vitamin E that help to moisturize skin and restore skin damage.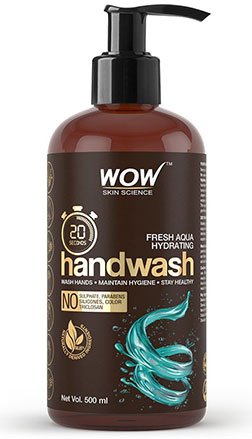 Helps to improve texture and appearance

Has citric acid that gently exfoliates skin and supports the skin renewal process.
---
Made with natural actives

It contains nature-based ingredients and is without any sulphate, parabens and triclosan.
---
KEY INGREDIENTS
---
HOW TO USE
Take some handwash in wet hands. Rub palm to palm to cleanse thoroughly.Clean fingers, nails, and thumbs well. Scrub the back of the hands properly and rub the wrists clean.Rinse hands thoroughly.
---
[des]
[/des]