Greek Yogurt Face Wash - No Parabens, Sulphate, Silicones & Color Tube - 100 ml
WOW Skin Science Greek Yogurt Face Wash is an advanced anti-blemish and anti-aging cleanser. It washes of grime without drying out skin. It comes enriched with yogurt powder, lactic acid and Aloe Vera extract. This face wash gently dissolves and washes away everyday impurities, dead cells and makeup. The formulation with natural probiotic and protein power of yogurt, hydrating goodness of Aloe Vera and gentle exfoliating effect of lactic acid, the face wash helps fade blemishes, removes grime and tan, and reveals newer layer of bright, even complexion. You get a soft, smooth and sparkling clean skin with regular use.
You Can Buy Our Greek Yogurt Face Wash At Best Price From : Amazon, Flipkart, Nykaa, Purplle
---
Benefits of WOW Skin Science Greek Yogurt Face Wash

This mild effective cleanser ensures that skin is free of grime and always looks fresh.
---

It has a gentle exfoliating action that helps in removing the layer of dead skin cells which really dull your complexion.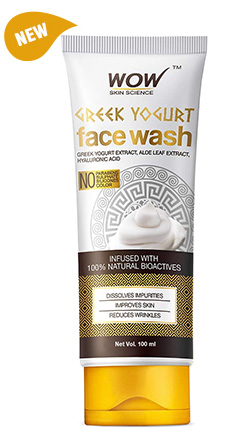 It helps reveal the bright layer of skin and keeps it hydrated for a supple, velvety texture.
---

Effective foaming face wash that clears away dirt, pollution and makeup residue, that helps skin stay hydrated.
---
FORMULATED TO DELIVER ANTI-AGING, ANTI-BLEMISH MOISTURIZING SKIN CARE
No Harsh Ingredients

---
Contains no harmful chemicals, parabens, sulphates or mineral oil.
Helps remove impurities from skin

---
It helps fade blemishes and get rid of tan and remove impurities from skin.
Youthful and Hydrated Skin

---
Helps reduce fine lines, wrinkles, and age spots, making your skin smooth.
---
Key Ingredients
---
Explore the entire range of Face Wash available on BuyWOW.
Shop Other WOW Skin Science Face Wash:
Shop Other Related Products:
---