Green Tea & Tea Tree Anti-Dandruff Conditioner - NO Mineral Oil, Parabens, Silicones, Color & PEG - 300 ml
Get refreshing relief with our Green Tea & Tea Tree Conditioner! This holistic blend of hair-loving botanicals works to soothe itchy irritation from pesky flakes, control excess oils, and nourish hair back to health. Plant-powered by antioxidant-rich green tea to soothe and fight hair fall, antibacterial tea tree oil to protect and boost blood circulation, rosebay to fight flakes, and nourishing argan oil and shea butter to boost silky shine and protect strands from damaging irritants. Boost silky shine naturally with this 100% vegan, flake-fighting conditioner!
You Can Buy Our Green Tea & Tea Tree Anti-Dandruff Conditioner At Best Price From : Amazon, Flipkart, Nykaa, Purplle
---
Refreshing and Strengthening Conditioner for Dandruff-Prone Hair

Purifying and energizing hair conditioner to help fight dandruff and energize limp hair.
---

Infused with natural actives that improve blood circulation the roots and add shine to hair.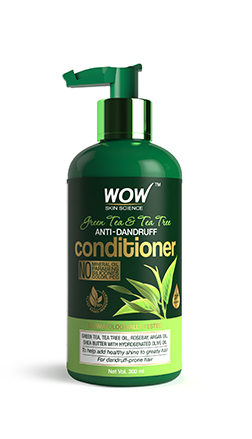 Helps to moisturize and nourish the strands and keep them lush and strong. Protects from breakages
---

Helps to control oily scalp and hair. Supports in adding bounce and movement to limp hair.
---
WHY YOU WOULD LOVE THIS HAIR CONDITIONER
Helps to restore hair health

---
Green tea and tea tree help to balance the sebum and remove excess oil from the strands and support in minimizing the appearance of dandruff.
Helps to revive greasy, limp hair

---
Improves tensile strength of the strands to avoid breakage, makes hair lush and enhances shine.
Helps to moisturize and protect the strands

---
Hydrogenated olive oil, argan oil and shea butter aid in repairing damaged strands making them strong and lush.
---
Key Ingredients
---
HOW TO USE
After shampooing, squeeze excess water from hair. Distribute a generous dollop of conditioner evenly throughout the length of your hair, starting at the ends and working towards the roots. Keep on for 2-3 minutes. Avoid applying to roots unless you have a very dry scalp. Rinse thoroughly. Finish with a cold water rinse to seal the hair cuticles for added shine.
---
Shop Other WOW Skin Science Shampoo and Conditioner:
[des]
A lightweight, non-greasy hair oil for dry, brittle hair and weak roots.

Helps to protect strands from damage and restore healthy shine.
Delivers potent nutrients from the actives to the scalp and roots.
Supports in boosting circulation to the scalp and stimulate the roots.
[/des]