Hair Vanish For Women - No Parabens & Mineral Oil - 100 ml
Hair Vanish For Women - No Parabens & Mineral Oil - 100 ml
|
Inclusive of all taxes
Earn Pro Point Worth
₹19.95
Launch
How To Use
After hair removal, apply cream liberally to freshly cleansed skin. Massage into the skin until it is absorbed.For best results, repeat twice a day for 7 days after shaving, waxing, or threading.
WOW Skin Science Hair Vanish For Women is a hair retardant that you can use after body hair removal to slow down the growth. Regular use leaves the skin feeling velvety soft to the touch. You have finer, sparser hair after each use. It is an all-natural product with bioactive ingredients including papain, Narcissus Tazetta Bulb extract, sunflower oil, jojoba oil, allantoin, liquorice extract, witch hazel and Himalayan spring water. These gently penetrate the skin to weaken the hair roots and keep the skin soft. With each application the regrowth gets later and later. No more trouble with frequent hair removal!
---
HAIR RETARDANT THAT SLOWS BODY HAIR REGROWTH AND KEEPS SKIN SOFT

Weakens roots that slow down regrowth and thins out hair texture.
---

It also offers an intense nourishing, soothing, toning and softening action that leaves your skin silky smooth.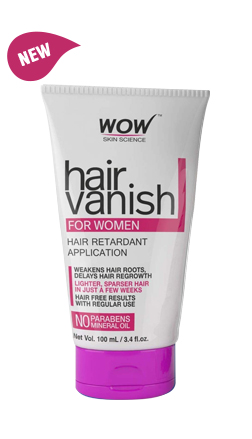 Not a hair remover but a retardant that works on hair-free pores.
---

Do not expect overnight results, use for 3 months regularly to see it.
---
FORMULATED TO RETARD REGROWTH OF BODY HAIR AND LEAVE SKIN WITH SMOOTH TEXTURE
Slows down hair growth

---
Its potent blend of bioactives papain and Narcissus Tazetta Bulb extract weaken the roots and retards regrowth.
Offers skin benefits

---
Helps nourish and tone skin; soften the epidermis for velvety smooth feel.
Completely safe

---
Safe to use on any body part including face. Contains no harmful parabens or mineral oils. It is vegan and cruelty free.
---
Key Ingredients
---
How to use
After hair removal, apply cream liberally to freshly cleansed skin. Massage into the skin until it is absorbed.For best results, repeat twice a day for 7 days after shaving, waxing, or threading.
---
Buy our Hair Vanish For Women at best price from
---
Explore the entire range of Hair Vanish available on BuyWOW.
Shop Other WOW Skin Science Hair Vanish:
Customer Reviews
Write a Review
Ask a Question
05/24/2021
Saloni

India
Amazing Product
This product really works and gives amazing results on regular use.
03/17/2021
Sonu

India
Amazing
It's amazing product...must try
03/14/2021
Aarti B.

India
02/08/2021
Anusha G.

India
Amazing Product
I was really skeptical before using this product, but once I started using this as per the instructions on the tube, the results are unbelievable. Me being a person who has to get waxing done twice a month, was surprised when the growth of hair has ******** and also thinner hair whenever I see the growth makes me so relieved and happy.
11/27/2020
KD

India
10/05/2020
Shubham S.

India
Awesome
Excellent products from wow
09/13/2020
Kirti P.

India
Worst Packaging And Expiry Products
Expiry product has been delivered to me
08/16/2020
Ramandeep K.

India
Wonderful product
It's one of the best product to use for your unwanted hair on body and it moisturizes well. Trust me with oily skin and body acne it is hard to trust products but this one won my heart. Do try it, it is worth it.
08/15/2020
Chella J.

India
Good
This is the first time I heared about hair vanish and that too natural way and so far can see difference
06/15/2020
Debanjoli

India
It's Good But Darkens Skin Color
It's effective to slow down hair growth but pigmentation is the issue.
It's just wonderful product.
It's effective....nice product.
Good one
I see Changes in my growth it's slowing down. Iam using it from a month. I see different. Thank you wow.
It make my skin feel
It make my skin feel so smooth
05/05/2021
Ujala V.

India
Best for unwanted hairs
I love this product I was using this from long and now above to order next . Have suggested many friends and there are also happy users . It's like my unwanted hair from sensitive parts just gone 10 to 3 it's magical product
Hey Ujala! Thank you for sharing your experience with us! Your word attain us! We truly appreciate you taking the time and leaving us an amazing review!! Stay safe!! Cheers! -sh
03/24/2021
Chanchal S.

India
12/14/2020
Laxmi T.

India
Try It Out
Ordered this product for d forth time coz I can see d difference. Haur on my hands have turned thin . Not drastic difference on legs but good to use as it works as moisturizer as well.
10/22/2020
Deepu S.

India
09/11/2020
Pavani V.

India
I didn't see any notable difference but liked the product
07/01/2020
Debanjoli B.

India
Does what it claim but pigmentation is an issue
Due to lockdown I had to switch to razor and hair growth is faster compared to waxing. I started using this hair retardant cream and it did slow down the growth, but pigmentation is observed. I have to use skin whitening lotion along with this.