WOW Skin Science Himalayan Rose Foaming Face Wash with Built-in Face Brush - contains Rose Water & Aloe Vera Extract - for Cleansing & Toning - No Parabens, Sulphate, Silicones & Synthetic Color - 100 ml
WOW Skin Science Himalayan Rose Foaming Face Wash with Built-in Face Brush - contains Rose Water & Aloe Vera Extract - for Cleansing & Toning - No Parabens, Sulphate, Silicones & Synthetic Color - 100 ml
|
Inclusive of all taxes
Earn Pro Point Worth
₹22.45
Launch
customers are viewing this product
Feel your skin get really cleansed, moisturized and glowing with WOW Skin Science Himalayan Rose Foaming Face Wash With Built In Face Brush. It is infused with rose water, aloe vera extract, vitamin E and pro-vitamin B5 that help to help to purify and tone skin, minimize blemishes, remove dullness, smoothen complexion, and add suppleness to skin. It leaves the skin hydrated and soft as the actives help to replenish lost moisture to your skin. The face wash also helps to clear blemishes and give you more even-toned skin. The Built-In Face Brush, with soft silicone bristles, helps to gently exfoliate skin and give it a thorough cleansing and add radiance and suppleness to your skin.
The face wash is enriched with Rose Water rich in flavonoids and vitamins A, B, C & E; Aloe Vera Extract a nutrient-rich natural moisturizer; Pro-Vitamin B5 and Vitamin E are essential nutrients that supports skin repair and restore moisture barrier. Use this face wash daily to get fresh, dewy soft and healthily bright skin.
---
WHY YOU WOULD LOVE THIS FACE WASH
Helps to remove impurities from skin
This face wash with the brush helps to draw out dirt, exfoliate dead skin layer and prevent fine lines and dryness, remove tan. It removes dead skin cells and brightens complexion.
---
Helps to hydrate skin and keep blemishes in check
Vitamin E and aloe vera help to protect skin's natural moisture barrier and calm irritated skin. These actives clarify the pores, tone the skin and even out complexion.
Helps to rejuvenate dull tired skin
Rose water rich in antioxidant and vitamins helps to revive and restore skin giving it a radiant look and supple feel.
---
---
KEY INGREDIENTS
---
HOW TO USE
Wet your face and neck. Pump out small amount of the face wash onto the face brush and apply on your skin. Massage your skin with the brush in circular motion to cleanse and remove dirt and dead skin. Wash off with plenty of plain water. As a final rinse splash your face with cool water to close the pores and tone up the skin. Pat dry.
---
Customer Reviews
Write a Review
Ask a Question
Filter Reviews:
skin
results
face wash
love
Smell
fragrance
brush
bottle
exfoliation
mind
04/27/2021
Komal

India
Himalayan Rose Face Wash
I am totally obsessed with it i loved the way that bottle is and i love the fragrance and i have watched the incredible results and so happy for that it is expensive but its worthy for 100 times than the price
Hey Komal!! Thank you so much for your amazing feedback We are so glad we hit the mark for you We are grateful to have you Stay safe!! Cheers!! -sh
04/17/2021
Minu

India
Wow
Amazing products i am in love with it
04/17/2021
minu

India
Awesome
I really loved the facewash.it gives fresh and smooth feel.rose fragrance is mind blowing
04/03/2021
ANINDITA G.

India
HAPPY CUSTOMER
THE ITEM IS GREAT, GIVES GOOD RESULTS.
03/30/2021
Ekta S.

India
BEST FACEWASH
IT HAS AMAZING SMELL, THE FACE BRUSH PATTERN GIVES AMZING EXFOLIATION TO MY SKIN
03/27/2021
Swati

India
Wow
Muje iske sath ka brush ni mila
03/20/2021
B.Jyothi

India
03/14/2021
Aastha K.

India
Poor customer care
Products are fine but from last 2 orders they have sent me worng products ... and don't cooperate or change it as the demanded product .. customer care is very poor ..
03/01/2021
Charm C.

India
AMAZING PRODUCT..
I have not purchased this online but from a retail store in Goa and I felt this is a perfect facewash and the I built brush and the foam pump helps to cleanse the skin so well.... purchased WOW VITAMIN C FACEWASH.. It gives a lovely glow to the skin..
02/12/2021
Pragya S.

India
Truly amazing
This is the first product I've ever used wow and I'm really glad I did the smell of this product is so calming and amazing that you'll fall in love with the very first use. It has a foamy texture and the bristles exfoliate the skin layers. The bristles are soft and it doesn't feel rough on skin. It's non greasy and good for oily skin
02/12/2021
Ramesh K.

India
Feedback on wow science products
Amazing products you are delivering to your customers.
AV
01/30/2021
AVINASH V.

India
Wow product Super Wow
It is really really a big wow from me ... I loved this product ...those brush are soo soft and gentle and it cleanses good ....I am so happy for this wonderful product. its very nice and very natural. This is one of the best face wash I have come across. Makes my skin very soft and smells great.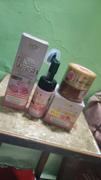 12/22/2020
Karna

India
Awesome Results
This is one of the best face wash I have come across. Makes ur skin very soft and smells great.
We are Immensely grateful for your Amazing Feedback ❤️~km
02/09/2021
Kavitha R.

India
Awesome.... 4.5
Refreshing and soothing
12/22/2020
Honny T.

India
very good
its very nice and very natural. quantity should be little more as its watery not even gel based.
12/19/2020
Bhumika S.

India
Excellent
Skin leaves so soft after using it.