PRODUCT DETAILS
WOW Skin Science Jasmine Absolute Essential Oil has the signature voluptuous floral fragrance of jasmines. It is a blend of 10% premium Jasmine Absolute in 90% pure cold pressed Jojoba Oil. Jasmine Absolute Essential Oil has been used through the ages by healers, perfumers and aromatherapists for its wellness benefits. It is known to offer stress relief and has antiseptic and disinfectant properties. It is a very popular additive for skin and hair care.
Benefits of WOW Skin Science Jasmine Absolute Essential Oil

This oil with its sweet, calming aroma helps to deal with mood swings and irritated mental state.
---

Since it has calming effect on the mind, this oil also helps in getting restful sleep.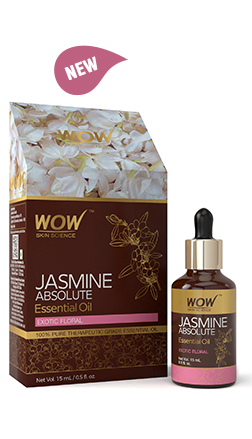 This oil can be used to help fade scars and blemishes; and deal with very dry skin.
---

Jasmine oil can be used to soothe irritated scalp and soften dry hair. It helps restore hair's lost shine.
---
FORMULATED FOR MULTIPURPOSE THERAPEUTIC USE
For Aromatherapy

---
It blends well with frankincense, lemongrass, bergamot and geranium essential oils. Few drops of this oil blended in a carrier oil can be used for therapeutic massage.
For Healthy Skin and Hair

---
Can be blended in a moisturizer or shampoo to balance very dry skin and hair.
For Calming Environment at Home

---
Diffused around the home, this oil can help clear the mind and evoke a sense of calmness. Helps to set up an appealing ambience at home.
---
Key Ingredients
---
How to use WOW Skin Science Jasmine Absolute Essential Oil
SKIN & HAIR: Add 8-10 drops to shampoo to add volume to the hair leaving it soft and silky. Add 4-5 drops to hair oil to help soothe dry, itchy scalp. Add 2-3 drops to moisturizer or face wash for calming dry, sensitive skin. It also has an anti-aging skin effect and helps reduce age spots.
FOR BODY:Add a few drops to bath water and soak in, to overcome mood swings, depression and hot flashes during menopause. Take 8-10 drops of this blend for relief from muscle spasms as well as sprains – massage on affected areas.
FOR HOME:Add a few drops to water, in a diffuser to let the fragrance create a romantic mood and to lower anxiety.
---