Kids 3 in 1 Wash - Shampoo + Conditioner + Body Wash - Caped Crusader Batman Edition - No Parabens, Color, Mineral Oil, Silicones & Sulphate - 300 ml
MRP :
₹449.00
₹359.00
-21% OFF
It's bath time with your favourite superhero! Revive and repair yourself with Batman and enjoy a foamy, frothy, scrub-a-dub with WOW Skin Science Kids Caped Crusader 3-in-1 Wash. It delivers the goodness of blueberry fruit extract, avocado oil, and calendula flower extract. Blueberry fruit extract is rich in antioxidants, minerals and vitamins A, C and E that help to protect skin from damage and keep it healthy. It helps to nourish and enhance hair texture. Avocado oil has lots of the skin-nourishing essential fatty acids and minerals that protect your skin's moisture barrier. It conditions your hair and gives it a soft sheen. Calendula Flower Extract is loaded with phytochemicals and lipids that help to repair any skin damage, and soothe rough, dry skin. It also protects your scalp and strands.
You Can Buy Our Kids 3-In-1 Caped Crusader Batman Edition At Best Price From : Amazon, Flipkart, Nykaa, Purplle
---
Wow Skin Science Kids Caped Crusader 3 - in - 1 Wash, Batman

3-In-1 Wash is a body wash, shampoo, and conditioner.
---

The wash helps to nourish skin and hair and helps to improve texture.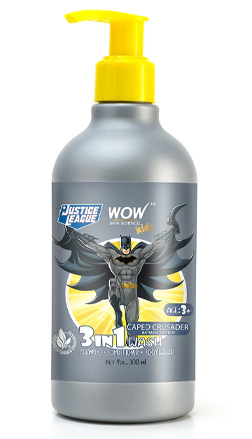 Helps to cleanse skin thoroughly to remove dirt and grime.
---

Helps to wash off dirt, tames and detangles frizzy, dry hair.
---
WHY YOU WOULD LOVE THE KIDS 3-IN-1 WASH
Helps to keep skin soft, supple, and healthy

---
Calendula flower extract helps to repair skin damage and soothe skin irritations making it soft and supple to the touch.
Helps to cleanse and protect skin and hair

---
Infused with antioxidant rich blueberry extract, the wash gently removes grime and grease from body and hair, leaving it feeling fresh, enveloped in peppy, fruity fragrance.
Helps to smoothen strands and tame frizz

---
Avocado oil aids in restoring softness to rough strands and helps to smooth out frizzy, tangled hair.
---
Key Ingredients
---
HOW TO USE
Wet your body and hair thoroughly. Take a small quantity in your palms and rub them together to create a foam. Apply on scalp, hair, and all over your body. First massage the scalp for a few minutes. Then use a wet loofah or wash cloth to rub all over your body to remove dirt and dead skin and cleanse your body. Rinse your hair and body well with plenty of water to remove the suds and get fresh, clean skin and hair.
---
Shop Other WOW Skin Science Kids 3 in 1 Wash:
Shop Other Related Products:
---
Manufacturing Information
Manufactured by : Kapco International Limited, Plot No 10-11, Sector 3, Parwanoo, Himachal Pradesh 173220, India
Country of Origin : India
Marketed By : Body Cupid Pvt Ltd. #51, IndiQube Penta, 5th Floor, Richmond Road, Bengaluru 560025, Karnataka - India.
*As our products are made with natural ingredients and made in small batches, there may be slight variations in their color and fragrance.