WOW Skin Science Lavender Essential Oil has a fresh, floral aroma that calms and relaxes the mind. Lavender essential oil is popular in aromatherapy for its wellness benefits. It is known for its antiseptic, analgesic, calmative, and deodorant properties. It helps soothe anxiety and headaches. This oil is known to have a cooling effect for migraines. It is beneficial in soothing skin, preventing scarring (especially post-burn scarring) and balancing skin's texture. It also helps to promote hair growth and acts as a natural moisturizer to soften the hair. It is a very popular additive for skin and hair care.
Benefits of WOW Skin Science Lavender Essential Oil

This oil can be used to help fade scars and blemishes; and balance skin.
---

Lavender oil can be used to soothe irritated scalp and soften dry hair. It helps restore hair's lost shine.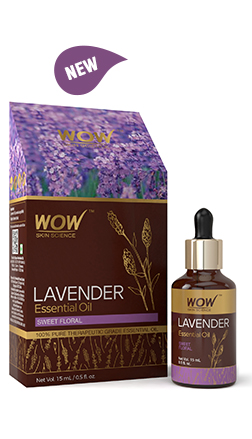 This oil with its fresh, calming aroma helps deal with mood swings and irritated mental state.
---

Since it has a calming effect on the mind, this oil also helps in getting restful sleep.
---
FORMULATED FOR MULTIPURPOSE THERAPEUTIC USE
For Aromatherapy

---
It blends well with cedarwood, geranium and essential oils of citrus nature. Few drops of this oil blended in a carrier oil can be used for therapeutic massage. It can help soothe pains and aches, migraine and relax the body.
For Healthy Skin and Hair

---
Can be blended in a moisturizer or shampoo to balance very dry skin and hair.
For Calming Environment at Home

---
Diffused around the home, this oil can help clear the mind and evoke a sense of calm. Helps set up an appealing ambience at home.
---
Key Ingredients
---
How to use WOW Skin Science Lavender Essential Oil
SKIN & HAIR:Add 3 drops per 10 ml moisturizer to improve any type of skin - dry, oily, sensitive or acne prone. Add 3 drops in your face wash to calm sensitive skin while washing off dirt and grime. Add 3 drops per 10 ml shampoo for healthier hair and scalp. Add 4-5 drops to hair oil to help soothe dry, itchy scalp. It helps manage dandruff.
FOR BODY:Add a few drops to bath water and soak in, to overcome mood swings, depression and hot flashes during menopause. Helps to improve sleep. Take 8-10 drops of this blend for relief from muscle spasms as well as sprains - massage on affected areas.
FOR HOME:Add a few drops to water in a diffuser and let the fragrance create a relaxing calm ambience through your home. Put 2-3 drops on cotton balls & place them in cupboards or wardrobes to give your clothes a mild scent, and to keep moths and insects away.
---
Manufacturer Name : Kapco International Limited, Plot No 10-11, Sector 3, Parwanoo, Himachal Pradesh 173220, India
Country of Origin : India
Marketed By & Contact details : Body Cupid Pvt Ltd - 4th Floor, Prestige Dotcom, Field Marshal Cariappa Road, Srinivas Nagar, Shanthala Nagar, Ashok Nagar, Bengaluru – 560025, Karnataka, India.
Customer Care Details:
E-mail : support@buywow.in
Phone Number: +91-80-42896000
This product has a shelf life of 24 months from the date of manufacture. Please use within 24 months for best results.