WOW Skin Science Melon, Cucumber & Aloe Foaming Body Wash is packed with fresh, fruity and crisp fragrance notes that feel like a dip in dewy innocence. Powered with skin-loving bioactives such as aloe vera extract, cucumber extract, melon seed oil and vitamin E, its ultra rich lather cleanses and moisturizes your skin. Every bath feels like a luxury spa trip.
Formulated to deliver a bathing experience that's great for skin

Leaves skin feeling totally clean, smooth and soft.
---

Give rich hydration to skin to remove every trace of dryness.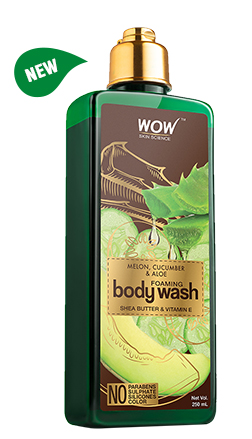 Has Aloe Vera Extract, Cucumber Extract, Melon Seed Oil and Vitamin E give your skin ample nourishment.
---

The rich moisturizing formulation that brings glow to the skin.
---
Why your skin loves this body wash
No Harsh Ingredients

---
Totally without sulphates, parabens, silicones, mineral oils, salt or color.
Gives Rich Lather

---
Revel in luxurious lather served up by just a bit of this body wash.
Relaxing fragrance

---
Fresh-fruity-crisp fragrance for a spa-like feel to your bath.
---
Key Ingredients
---
How to use WOW Skin Science Melon, Cucumber & Aloe Foaming Body Wash
Wet your body thoroughly under shower or in bath. Pour a dollop of shower gel on wet loofah, washcloth or sponge. Lather all over savoring the amazing smell. Rinse off thoroughly and pat your skin dry.
---
Manufacturer Name : Kapco International Limited, Plot No 10-11, Sector 3, Parwanoo, Himachal Pradesh 173220, India
Country of Origin : India
Marketed By & Contact details : Body Cupid Pvt Ltd - 4th Floor, Prestige Dotcom, Field Marshal Cariappa Road, Srinivas Nagar, Shanthala Nagar, Ashok Nagar, Bengaluru – 560025, Karnataka, India.
Customer Care Details:
E-mail : support@buywow.in
Phone Number: +91-80-42896000
This product has a shelf life of 24 months from the date of manufacture. Please use within 24 months for best results.