WOW Skin Science Rose Otto Essential Oil has an exotic sweet floral scent with distinctive rose notes. It is a blend of 10% pure Rose Otto Essential Oil in 90% pure Jojoba Oil. Rose oil is a beauty essential that delivers multiple skin benefits - from toning, refining to hydrating skin. The fragrance also has calming, relaxing and aphrodisiac properties. Helps uplift the mood and senses. This oil has antidepressant, antiseptic, antispasmodic and calmative qualities.
Benefits of WOW Skin Science Rose Otto Essential Oil

Rose Otto essential oil is a well-known skin hydrator and moisturizer that keeps skin soft and supple. Keeps aging skin toned.
---

It has a balancing effect and helps fight stress and depression. It evokes a sense of happiness.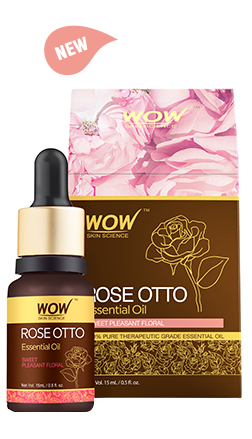 Rose oil has a beneficial effect on circulation, which in turn helps improve pressure and palpitations. Calms the heart.
---

Its calming and repairing qualities help control feeling of nausea and soothe irritated digestive tract.
---
FORMULATED FOR MULTIPURPOSE THERAPEUTIC USE
For aromatherapy

---
It blends well with bergamot, ylang ylang, frankincense and lavender essential oils. Few drops of this oil blended in a carrier oil can be used for therapeutic massages.
For Healthy Skin

---
Can be blended in a moisturizer to balance skin issues. It can be used to soothe dry, dehydrated skin and fight signs of aging. Blended with water, it makes an excellent skin hydrator.
For Promoting a Sense of Well Being

---
Bring a sense of peace and calm in your house by using this oil in a diffuser. It helps remove negative energies from your space and de-stresses the mind.
---
Key Ingredients
---
How to use WOW Skin Science Rose Otto Essential Oil
SKIN & HAIR: Add 8-10 drops to moisturizer for effective anti-aging care, especially for dry skin and to fight acne. Mix 1 drop to 1 tbsp. of argan oil and apply lightly onto your hair, more on the tips. It helps moisturize the hair and keep it frizz-free. Mix 10 to 15 drops of rose oil with 100 mL of water. Keep it in a spray bottle. Use it as face mist anytime your skin feels dry, dehydrated.
FOR BODY:Blend 3 drops in 10 mL carrier oil like coconut, olive or almond oil. Massage all over your body to calm your mind and draw out toxins and manage cellulite. Take 2-3 drops of this blend to 3 tbsp. carrier oil & massage on lower abdominal area to help ease discomforts of PMS and for menstrual support and relaxation. Add a few drops to bath water/foot soak to soothe your skin and lift your spirits with a luxurious spa-like experience.
FOR HOME:Add 2-3 drops to water in a diffuser to infuse your home with a calming ambience. Helps awaken your senses. This also removes stress and fatigue; helps you fall asleep easily. Put 2-3 drops on some cotton balls & place them in cupboards/wardrobes to give your clothes a soft, refreshing scent.
---
Manufacturer Name : Kapco International Limited, Plot No 10-11, Sector 3, Parwanoo, Himachal Pradesh 173220, India
Country of Origin : India
Marketed By & Contact details : Body Cupid Pvt Ltd - 4th Floor, Prestige Dotcom, Field Marshal Cariappa Road, Srinivas Nagar, Shanthala Nagar, Ashok Nagar, Bengaluru – 560025, Karnataka, India.
Customer Care Details:
E-mail : support@buywow.in
Phone Number: +91-80-42896000
This product has a shelf life of 24 months from the date of manufacture. Please use within 24 months for best results.