Argan Hair oil + Argan shampoo + Argan hair mask - Shine Ritual Kit with Moroccan Argan Oil, Extra Virgin Olive Oil, Sweet Almond Oil, Grapeseed Oil, Castor Oil & Jojoba Oil
Argan Hair oil + Argan shampoo + Argan hair mask - Shine Ritual Kit with Moroccan Argan Oil, Extra Virgin Olive Oil, Sweet Almond Oil, Grapeseed Oil, Castor Oil & Jojoba Oil
|
Inclusive of all taxes
WHAT DOES WOW Skin Science Shine Ritual Kit With Moroccan Argan Oil CONTAIN?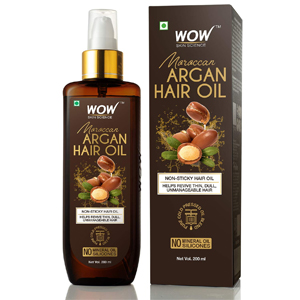 WOW Skin Science Cold Pressed Moroccan Argan Hair Oil
WOW Skin Science Moroccan Argan Hair Oil is a premium, non sticky, non greasy and fast absorb hair oil. Formulated to revive thin, dry, brittle, undernourished, split-ended, frizzy and unmanageable hair, it contains genuine and finest quality Moroccan Argan Oil along with Extra Virgin Olive Oil, Sweet Almond Oil, Grapeseed Oil, Castor Oil, Jojoba Oil and Coconut Oil.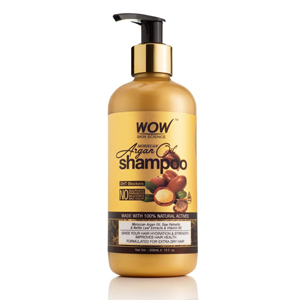 WOW Skin Science Moroccan Argan Oil Shampoo
WOW Skin Science Moroccan Argan Oil Shampoo with Natural DHT Blockers has been formulated to bring back smoothness, restore silkiness, and reduce hair loss in extra dry hair. This shampoo also contains Saw Palmetto and Nettle Leaf Extracts for natural DHT blocking action (DHT or dihydrotestosterone is a hormone responsible for hair loss and baldness) to help reverse hair loss and reduce hair fall. Its pH balanced formula 300 ml pump bottle.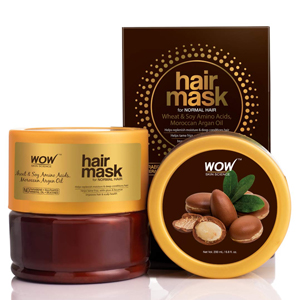 WOW Skin Science Wheat & Soy Amino Acids, Moroccan Argan Oil Hair Mask
WOW Skin Science Hair Mask for Normal Hair gives the ultimate nourishing care to revive and revitalize your tresses. Even normal hair needs intensive care to stay healthy and look good. The strengthening and conditioning formulation of this hair mask contains Hydrolyzed Wheat Protein, Wheat & Soy Amino Acids, and Moroccan Argan Oil to moisturize, repair and deep condition hair and scalp. Wheat & Soy Amino Acids strengthen hair cuticles and attract more moisture for strength and glossiness. Moroccan Argan Oil boosts hydration of hair and scalp. It also shields hair from potential sun and styling damage.
---

Made In Himalayas: Made with the natural ingredients from the Himalayan mountains.
---

Dermatologically Tested: Skin and Hair friendly and free of harsh chemicals.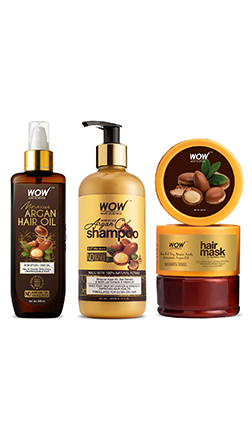 100% Vegan: Totally without sulphate, paraben, mineral oil, silicone, or gluten.
---

High Standard Formula: WOW Products are carefully formulated through consistent quality checks with high global standards such as the USA.
---