Tea Tree & Mint Foaming Body Wash - No Parabens, Sulphate, Silicones & Color - 250 ml
WOW Skin Science Tea Tree & Mint Foaming Body Wash has a cool minty-camphorous fragrance that feels like a shot of instant energy. This body wash has been enriched with premium bioactives such as pure Shea Butter, Tea Tree & Peppermint Essential Oils, and Vitamin E to give your skin healing, nourishing and reviving care. Plus, it creates loads and loads of lather that adds a luxurious feel to your bathing ritual.
You Can Buy Our Tea Tree & Mint Foaming Body Wash At Best Price From : Amazon, Flipkart, Nykaa, Purplle
---
Formulated to deliver a bathing experience that's great for skin

Leaves skin feeling totally clean, smooth and soft.
---

Gives rich hydration to skin to remove every trace of dryness.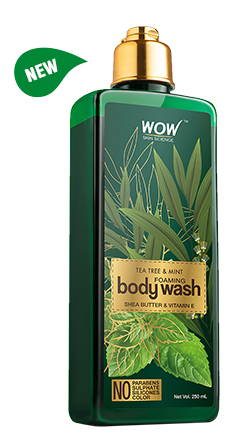 Tea Tree Essential Oil clears your skin, and Peppermint Essential Oil energizes your mind and body.
---

The rich moisturizing formulation that brings the glow to the skin.
---
Why your skin loves this body wash
No Harsh Ingredients

---
Totally without sulphates, parabens, silicones, mineral oils, salt or color.
Gives Rich Lather

---
Revel in luxurious lather served up by just a bit of this body wash.
Relaxing fragrance

---
Minty-camphorous fragrance for a sensual spa-like feel to your bath.
---
Key Ingredients
---
How to use WOW Skin Science Tea Tree & Mint Foaming Body Wash
Wet your body thoroughly under shower or in bath. Pour a dollop of shower gel on wet loofah, washcloth or sponge. Lather all over savoring the amazing smell. Rinse off thoroughly and pat your skin dry.
---
Explore the entire range of Body Wash available on BuyWOW.
Shop Other WOW Skin Science Body Wash:
---
Manufacturing Information
Manufactured by : Kapco International Limited, Plot No 10-11, Sector 3, Parwanoo, Himachal Pradesh 173220, India
Country of Origin : India
Marketed By : Body Cupid Pvt Ltd. #51, IndiQube Penta, 5th Floor, Richmond Road, Bengaluru 560025, Karnataka - India.
*As our products are made with natural ingredients and made in small batches, there may be slight variations in their color and fragrance.