WOW Skin Science Ubtan Face Wash with Chickpea Flour, Turmeric, Saffron, Almond Extract, Rose Water & Sandalwood Oil - 100mL
Roll over or click image to zoom in
WOW Skin Science Ubtan Face Wash with Chickpea Flour, Turmeric, Saffron, Almond Extract, Rose Water & Sandalwood Oil - 100mL
Earn Pro Point Worth
₹14.95
Join Now
customers are viewing this product
Cleanse and clarify complexion with WOW Skin Science Ubtan Face Wash. This face wash has a blend of natural ingredients that aids in removing deep-seated dirt and lighten patchy skin tone. It also helps to moisturize skin and even out complexion. It helps to tone and moisturize and protect skin from environmental damage. It supports in removing skin imperfections, control excess oil and soothe skin. It is infused with Almond Extract, which contains vitamin E and antioxidants, it helps exfoliate and prevent fine lines and dryness. Rose water oil Mineral rich skin coolant and toner, helps firm up the skin, even out complexion and give it a soft glow. Chickpea Flour aids in removing dead skin layer and fine hair from face. It can be used to help make skin look healthy and bright. Suitable for all skin types, this face wash can be used to restore skin's natural radiance and suppleness.
---
WHY YOU WOULD LOVE THIS FACE WASH
This face wash helps to draw out dirt, exfoliate dead skin layer and prevent fine lines and dryness, remove tan, even out complexion and calm irritated skin.
---
When used on a continuous basis, it aids in enhancing skin's texture and the look and feel of the skin.
This face wash is made from traditional natural ingredients which aids in moisturizing skin and protects skin from environmental damage.
---
Contains no parabens, sulphate, color or silicones and helps to deliver maximum benefit.
---
Key Ingredients
---
How to use
STEP 1
Splash some water on the face and neck. Take a small amount of the face wash on your palm. Rub your palms together to activate wash and create a lather.
STEP 2
Massage the lather onto your face in circular motion for 2 minutes to remove dirt and dead skin.
STEP 3
Wash it off thoroughly with plain water. Pat your skin dry. Use this face wash twice daily to keep your skin clear of dirt and pollution. Use lukewarm water to wash off, and finish off by splashing your face with cold water to close the pores.
Customer Reviews
Filter Reviews:
skin
shampoo
results
skin science
fragrance
Ubtan
price
wash
complexion
prouds
Bhaswati M.
India
07/13/2020
Best Facewash For Ppl Staying In Humid Region
Finally I found a face wash which suits oily skin and also does not make the skin dry. I have tried so many facewash but somehow nothing suited my skin either I used to break out a lot or had any kind of allergy, but after using this face wash I did not get any kind of allergy or any kind of Breakout so yes for this product
Sherisha
India
07/09/2020
Simply superb and awsome
I have complexion not much but yes I had and I have came so many prouds and I stopped using all and I gave a pause to my skin and suddenly I thought y shouldn't I give it a try and now it's simply superb and its tooo too gentle in my skin and hydrates and my upper lip is brighter now am happy and all must have this product in bag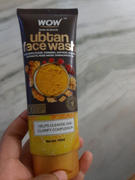 Dr R.
United States
07/03/2020
Awesome product
I'm satisfied with the results of this wow face wash having all the herbal ingredients wish are beneficial for skin.
Hey Dr Rajeev! We really appreciate you taking the time out to share your experience with us! Your kind words mean a lot to us & we're delighted to know you're enjoying our product. Thank you for being an awesome customer :) Have an amazing day ahead!
Ganesh S.
India
AA
Akash A.
05/29/2020
Wow ubtan face wash
Just wow , i m using wow shampoo from last 2 year recently i bought this face wash on amazon . Its amazing , and its price is worth it . Must try it out !